News
Mapping tool to help wilding conifer control
A new mapping tool is giving wilding tree control groups a complete picture of infestations throughout the country.
Launching the Wilding Conifer Information System in Queenstown yesterday, Minister for Land Information Mark Mitchell said the tool would ''underpin'' a Government-led programme to control the spread of wilding trees.
The web-based analytical tool, which maps and monitors infestations, would be used by Land Information New Zealand (Linz), Ministry for Primary Industries, Department of Conservation, New Zealand Defence Force, regional and district councils and community groups such as the Wakatipu Wilding Conifer Control Group.
Based on the Esri GIS mapping software platform, it had been developed by Linz over about two years, in conjunction with Auckland-based IT company Eagle Technology.
''The tool provides for accurate and nationally consistent standards to record data about infestations and control activities,'' Mr Mitchell said.
''This information will be vital at both regional and national levels when it comes to making decisions about where to prioritise funding for control.''
The system included a mobile app for field workers to record information in real time.
Wilding trees were affecting more than 2million ha of land, and spreading at an estimated rate of 5% a year, he said.
A national programme to remove self-sown trees, spread from introduced wilding species, is in its second year.
Conservation Minister Maggie Barry said five new areas covering 371,000ha had been added to the programme for 2017-18, including the Lammermoor Range in Central Otago.
That was in addition to the more than 1million ha on which control efforts were carried out in 2016-17, Ms Barry said.
The Government is spending about $6million on the programme in 2017-18, along with nearly $2million in funding from other parties. It has allocated $16million for the programme's first four years.
The other new areas are Mid Dome, in Northern Southland, Ohau and two areas near Tekapo, in Canterbury.
By Guy Williams
NZ Esri Young Scholar
The Esri Young Scholar Award is about recognising the very best GIS students around the globe. Every year, Esri's global partners nominate 25 university students for excellence in relation to a GIS project. These projects include comprehensive research papers, software development, impactful maps, and apps that promote education, conservation, disaster response, and urban planning.
NZ Esri Young Scholar Award 2017 – Winner
Eagle Technology is pleased to announce Leigh McKenzie of the University of Otago as the Winner of the NZ Esri Young Scholar Award 2017.
To recognise this achievement, Leigh will be attending the Esri Education Conference and Esri User Conference in San Diego in July 2017. 
Leigh's project entitled Using a Geodatabase to Assess Vulnerability to Sea Level Rise in Greater South Dunedin focused on a subject that potentially has serious repercussions for many low lying areas of New Zealand. ArcGIS was utilised in her project to provide further understanding about what could go on in South Dunedin as sea levels rise.
For more details on Leigh's project view her poster at:
Using a Geodatabase to Assess Vulnerability to Sea Level Rise in Greater South Dunedin
The entries this year were really exceptional and Eagle Technology commends the following outstanding projects for the NZ Esri Young Scholar Award 2017.
Euan Forsyth for his Walking to scale: Utilising ArcGIS to implement a residential scale walkability index in Auckland project and
Stephen Ford for his Lightning Strike Prediction – Protecting Critical Assets project.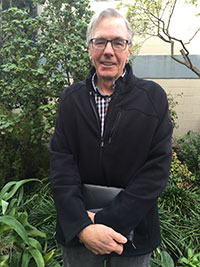 Parker Jones, a long-time Forest & Bird member, has a vision. He wants to see New Zealand rid of introduced pests. And he believes one way to do this is to use smart mapping technology.
His charity GIS in Conservation (GiC) was set up four years ago to help conservationists do their trapping, planting, and weeding work more easily (see the case studies below).
American-born Parker brought Geographic Information Systems (GIS) to New Zealand in the 1980s, when he was working as a salesman for New Zealand-owned IT company Eagle Technology. The powerful US mapping technology proved popular, and Parker sold it to lots of organisations, including the Department of Conservation, Ministry for the Environment, OSPRI, health authorities, and regional councils.
Fast forward 30 years, and conservation groups such as Forest & Bird anywhere in the world can now access GIS technology for just US$100 a year, thanks to the generosity of the American developer Esri. But using the complex computer-based technology was a barrier for many.
In 2012, Parker, decided he wanted to set up a charity to help conservation groups use the GIS technology. Parker explains: "I felt bad. I would throw this complex software at conservation groups and then leave them to it. So, I thought, why not use my experience and my love of New Zealand to give something back and make a difference?"
Parker's idea was to establish a core group of geospatial expert volunteers who could help conservation groups harness the mapping tool for the benefit of their conservation work. The volunteers and GiC's committee of experts support projects in different ways, depending on their complexity. "It has been easy to get volunteers. Many of them are very skilled and are keen to help New Zealand's conservation the skills of our volunteers. It could be anything from an easy mapping project up to something very complex." 
"I want New Zealand to be pest-free. That's the big picture, that's the vision we're all after."
GiC has helped Forest & Bird projects in the past, and Parker would be pleased to hear from any members who would like to tap into GiC's resources to help their conservation efforts. You can contact him by emailing gisconservationnz@gmail.com.
Full article including CASE STUDIES 
To find out more about GiC, see www.gicnz.org.nz.
*A version of this story first appeared in Forest & Bird magazine http://bit.ly/2h3SBAu. You can find out more about Forest & Bird's work at www.forestandbird.org.nz 
Updates for Edgecumbe and the BOP flooding situation:
Eagle Technology is providing Bay of Plenty Regional Council with support via a public map displaying the current situation including traffic flows and areas of flooding.
Eagle supports NZ Emerging Spatial Professionals
Wellington
Eagle is pleased to continue supporting the NZESP Group including sponsoring an event held at LINZ Headquarters in December. Rob Deakin (Chief Steward - National Spatial Data Infrastructure) presented to this gathering about SDI activities and some of the structure of the official geospatial committees in New Zealand, including the Geospatial Capability Committee (GCC). Eagle's own Lauren McArtney is going to take up a chair onthe GCC to represent the NZESP Committee. This event also featured a presentation about the NZ GIS in Conservation Group given by Bonita Gestro and GIS at MBIE by Sam Keast (NZESP Committee Member).


Rob Deakin talks about Eagle's GIS in Schools Programme
Auckland
The NZESP Group held a meeting in Auckland hosted by the Royal New Zealand Air Force at Whenuapai Airforce Base. Several NZDF managers spoke about how GIS is used across the various branches of defence, including assisting with humanitarian disasters and events such as the Kaikoura Earthquake.

During the NZDF event Eagle's Nathan Heazlewood presented
Josie Hawkey (NZESP Chairperson) with a Certificate of Appreciation
for Outstanding Leadership in the Development of the National Geospatial Capability
GIS for Emergency Management in New Zealand - 1st Workshop #NZGIS4EM
After the Kaikoura Earthquake of 2016, a group of GIS Specialists in New Zealand agreed to meet here in Wellington to discuss best practices for using GIS for Emergency Management. On February 14th and 15th 2017 we will have our first workshop focused on the Wellington Region / Lower North Island. 
The workshop will focus on the following objectives:
Share experiences & demonstrate apps from the recent Kaikoura Earthquake and the preceding Tangaroa Exercise.
Deploy and test response-ready web mapping applications and procedures.
Have fun and develop transferable skills / workflows that will also benefit each Organisation in business as usual.
We think this will be a very productive and fun event with over 50 participants from National / Regional / Local government, the private sector, and not-for-profit organisations. Here is more information if you are interested in what will be discussed and the type of training we will be doing. 
Agenda: http://arcg.is/2kj5OUj 
Training Website (with free tutorials): http://bit.ly/NZGIS4EMTraining 
We anticipate there will be more of these events to keep the Emergency Management GIS Community growing strong. Please let us know if you think your Region would like to host a GIS for Emergency Management Workshop. 
[Tsunami Exercise Training in Western Bay of Plenty]
Deloitte Top 200 Awards 2016
IMNZ / Eagle Technology Young Executive of the Year Award - Winner, James Bergin, ASB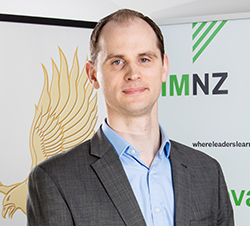 We congratulate James Bergin who was awarded the IMNZ / Eagle Technology Young Executive of the Year at the Deloitte Top 200 Awards, held on the 1st of December at Vector Arena.
You can hear James speak about his leadership style here.
The list of outstanding finalists this year made the decision very difficult. Other finalists were:
Sasha Lockley, Avanti Finance
Andrew Slater, Homecare Medical/The National Telehealth Service
Kimberley Bray, Ravensdown
Michael Stribling, Spark NZ
Imagery Basemap
Over the last 4 years, Eagle Technology has worked with Land Information New Zealand (LINZ) and other NZ Government agencies to take New Zealand's most current publicly-owned aerial imagery, covering over 95 percent of the country, and make this available as an open, freely available high performance Imagery Basemap. Last month this Basemap was updated with the latest imagery data captured by NZ Transport Agency (NZTA) and numerous Local and Regional Government agencies and was also enhanced to support more detailed, higher resolution views. This Basemap complements the other Eagle basemaps created from publicly-owned vector data – the NZ Topographic, NZ Community, NZ Dark Grey and NZ Light Grey basemaps. These basemaps are extremely popular, receiving millions of views each year, and now will have even more uses having also been updated with the latest data including roads, parcels and addresses.
Details of the imagery updates can be seen in this interactive Storymap.
Below are the current updates with more due over the next 6 months. In areas where this imagery supports higher resolutions the Basemap has been cached down to the 1:564 and 1:282 scale levels (*) allowing users to zoom in to street-level detail.
Northland 0.1m Urban Aerial Photos (2014-15) *
Auckland 0.075 Urban 2015 *
Waikato District 0.1m Urban_2014 *
Hamilton 0.1m Urban_2015 *
Hawkes Bay 0.3m Rural Aerial Photos (2014-15)
Wairoa 0.1m Urban Aerial Photos (2014-15) *
Hastings 0.1m urban aerial photos (2014-15) *
Whanganui 0.1m Urban Aerial Photos (2015-16) *
Palmerston North City 0.125m Urban Aerial Photos (2014-15) *
Marlborough 0.2m Rural Aerial Photos (2015-2016)
Tasman 0.3m Rural Aerial Photos (2015-16)
West Coast 0.3m Rural Aerial Photos (2015-16)
Canterbury 0.3m Rural Aerial Photos (2014-2015)
Waimakariri  0.075m Urban Aerial Photos (2015-16) *
Christchurch City 0.075m Urban Aerial Photos (2015-16) *
Canterbury 0.3m Rural Aerial Photos (2015-16)
Southland & Central Otago 0.4m Rural (2014)
Southland & Central Otago 0.4m Rural 2015
Invercargill 0.1m Urban Aerial Photos (2015-16) *
Invercargill 0.05m Urban Aerial Photos (2015-16) *
West Coast Sh6 0.15m (2016) *
Tech driven quake response and a silver lining
Published on the 22/11/2016 | Written by istart Newsdesk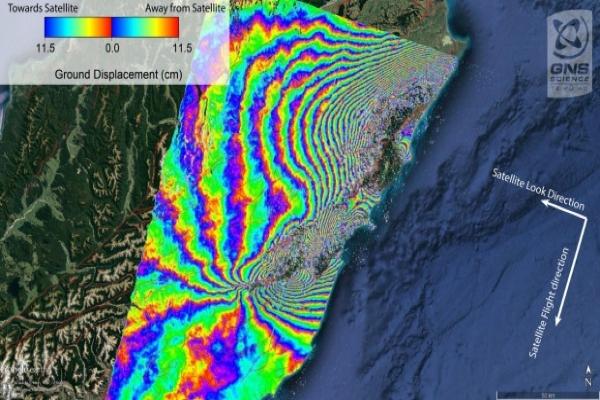 New Zealand's skills in advanced spatial technology and geographic intelligence has underpinned much of the response to last week's 7.8 earthquake...
That's according to NZTech CE Graeme Muller; in a statement, he said, "When the earthquake hit the South Island last Monday morning, spatial experts across the tech sector and government were able to quickly assign four satellites over the area, remap and identify areas of critical needs and help coordinate and assign emergency responses across the top of the South Island."
Using that technology, he said it was possible to map key areas across Wellington down to the detail allowing traffic redirection around at risk buildings.
The shakiness of the shaky isles and its ability to respond using advanced technology even provides something of a silver lining to the repeated incidences of serious seismic events: Muller said that not only has spatial technology played a major role in the rapid response to the latest major earthquake to hit the country, but that it is also a growing export opportunity for New Zealand.
"Geospatial technology is playing a key role in supporting government agencies and the local authorities in the Canterbury and Wellington region respond to and manage the current earthquake crisis…[GIS provider] Eagle Technology moved quickly alongside the New Zealand Defence Force and Land Information New Zealand to task the global satellite company Digital Globe to acquire imagery over the affected transport routes."
Undoubtedly a crucible of fire; Muller explained that this 'multi-band satellite imagery' is flowing into response agencies and has already helped identify the exact location and extent of damaged infrastructure, with imagery acquired in the days immediately following the November 14 earthquake providing a complete overview of the affected area.
He said organisations including Eagle Technology and Environment Canterbury have helped the Ministry of Civil Defence and Emergency Management and its associated regional offices to develop situational awareness maps, 3D scenes, site maps and building inspection applications to gather and distribute crucial information to stakeholders.
Further, "Using helicopters and specialised survey equipment, engineering services company Aurecon has assisted Canterbury Civil Defence with landslide identification and management. This information has revealed which bridges are passable.  The next phase of work by Aurecon is to use drones to undertake aerial surveys and generate 3D models and volumetric calculations of the large land slips. These techniques have been developed and refined after the February 2011 Christchurch earthquake on the Port Hills," said Muller.
14/11/2016 - Important information regarding Earthquake support
We hope you are all well and safe in the aftermath of the current situation which remains unclear. In light of these recent earthquakes we wanted to let you know there are resources available now to assist you, your organisation, and the public.
Earthquake Esri Disaster Response Public Information Map: http://arcg.is/1HDPEZU
This map displays continuously updated data from the USGS Earthquakes and Shakemaps. It also features feeds from geo-tagged social media data from YouTube, Instagram, and Webcams.travel. See the "Layers" tab to turn these layers on and off. 
Earthquake Web Map Template: http://www.arcgis.com/home/item.html?id=1e554160ad7f41ca975a3234ad1702e3
This is a web map you can use with you ArcGIS Online as a starting point for creating your own mapping products (web maps, apps, and can be opened in ArcGIS Pro). We suggest you save a copy and tailor to meet your needs.
Esri Disaster Response Program: http://www.esri.com/services/disaster-response/earthquakes
Esri, in partnership with Eagle Technology, is supporting organisations that are responding to earthquake and tsunami disasters with software, data, project services, and technical support. If you are in need of software or support, complete the Request Assistance form. All requests should be justified in the message section of the form and are subject to approval. This includes post-event damage assessments and public information maps.
If you need help with any of the above, contact Support:
0800 732 453
Your Account Manager is also available and happy to assist.

2016 New Zealand Spatial Excellence Awards
- Thursday November 17
Update! The New Zealand Spatial Excellence Awards were held in Wellington  on Wednesday 16 November 2016 at Te Papa Tongarewa, Wellington.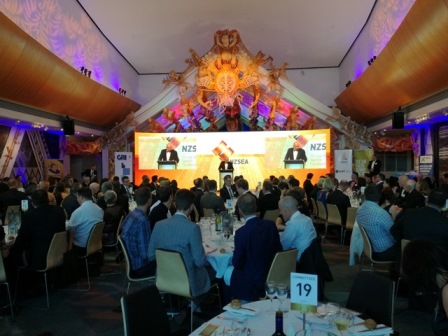 The winners were announced and can be viewed here. Congratulations to the winners!
Wellington 7 October 2016 – The 2016 New Zealand Spatial Excellence Awards finalists were announced this morning at a breakfast function at the Wellington Club. Now in its third year, the 2106 event attracted 63 entries, almost double the number of entries received in 2015. 
The winners in each category will be announced at a black tie gala dinner to be held at Te Papa Tongarewa, Wellington, on Wednesday 16 November 2016.
The 2016 New Zealand Spatial Excellence Awards Finalists are: 
Spatial Industries Business Association Award for Export 
Aurecon 
CoreLogic New Zealand 
ThunderMaps 
Land Information New Zealand Environment and Sustainability Award 
OSPRI New Zealand 
Predator Free New Zealand Trust 
Statistics New Zealand / Ministry for the Environment 
CoreLogic Innovation and Commercialisation Award 
Ballance Agri-Nutrients 
Marlborough District Council 
Ravensdown Limited 
Statistics New Zealand People and Community Award 
Eliot Sinclair and Partners Ltd 
Predator Free New Zealand Trust 
Wellington City Council 
e-Spatial Spatial Enablement Award 
Critchlow Limited 
Department of Conservation 
Ministry for Primary Industries 
New Zealand Transport Agency 
Critchlow Limited Technical Excellence Award 
CoreLogic New Zealand 
National Geodetic Office, Land Information New Zealand 
Stronger Christchurch Infrastructure Rebuild Team (SCIRT) GIS Team 
New Zealand Institute of Surveyors Education & Professional Development Award 
Sophie Curtis-Ham, New Zealand Police 
Nicola Hodson, Tauranga Girls' College 
Dr Antoni Moore, University of Otago 
Eagle Technology Professional of the Year Award 
Nathan Heazlewood, Eagle Technology 
Wendy Lawson, University of Canterbury 
Norm Thornley, Department of Conservation 
Eagle Technology Young Professional of the Year Award 
Robyn Crisford 
Kurt Janssen 
James Lyth 
Postgraduate Student of the Year Award 
Daniel Hogg 
Mike McConachie 
Wellington City Council Undergraduate Student of the Year Award 
Andrew Douglas-Clifford 
Jeanette Ma 
Supreme Excellence Award 
The 2016 NZSEA Supreme Excellence Award will be announced at the Gala Prize Dinner on 16 November. It is selected from one of the organisational category winners by the Judging Panel. The Supreme Award, in the judges' opinion, represents the pinnacle of achievement in the spatial industry. 
Eagle Technology is a stakeholder and supporter of Predator Free NZ (PFNZ) a charitable trust formed to connect, inform and inspire others to get involved in the cause to protect New Zealand's endangered native species by eliminating the threat of introduced predators such as possums, stoats and rats.
Eagle brings its strong expertise with geospatial data and technology to map and analyse the predator management work being done across the country. To do this Eagle has been collaborating with organisations such as OSPRI, Department of Conservation, Nga Whenua Rahui, and regional councils to create a 'Big Picture' map of New Zealand showing where the gaps and opportunities lie, thus allowing the many organisations across NZ to focus their resources where and how they can be most effective.
An example of this mapping can be seen on the PFNZ website (http://predatorfreenz.org/the-big-picture/) as well as in a dedicated map viewer (http://pfnz.maps.arcgis.com/apps/Viewer/index.html?appid=00e67ff4ce7347b...).
As a key part of this support, Eagle's Chief Executive Gary Langford is also a Trustee and member of the PFNZ Board helping to steer the organisation. Below is the press release from Predatro Free New Zealand.
Bold Plan to make New Zealand predator free
A group of New Zealanders and independent businesses are joining forces with government agencies to create a predator free New Zealand – eradicating all rats, possums and stoats and other predators to native bird life and conservation.
The group formed the Predator Free New Zealand Trust, which will receive $575,000 over the next two years from the Community Conservation Partnerships Fund.
The Trust unveiled the first stage of its vision at the 'A Place to Live' conference in Whanganui today. It revealed a map displaying predator control areas already undertaken by public and government agencies including OSPRI, DOC and regional councils.
Stage two of the Trust's work focuses on community and private efforts, which are underway or planned.
Chairman of Predator Free New Zealand Devon McLean said the secret weapon in this battle was the countless number of New Zealanders, mainly volunteers, already dedicating millions of hours controlling the predators.
However, he said, becoming predator free would not be an easy task and would require new innovation and real commitment from all New Zealanders.
"We believe the only way that New Zealand can be predator free is if all Kiwis, in every community, in every region, accept some of the responsibility and join in the fight."
Gareth Morgan was one of the business leaders supporting the Trust. Eliminating predators was important to secure a future for our threatened native species, including our national emblem the kiwi, Dr Morgan said.
It was also a boost to our vital tourism industry, reduced diseases and increased farm output resulting in gains for our food exports and an enhanced international reputation.
The vision of a predator-free New Zealand is the brainchild of eminent physician Sir Paul Callaghan, a native of Whanganui. At his last public lecture in 2011, Sir Paul likened the vision to the first Apollo mission, saying "It's crazy, it's ambitious but I think it might be worth a shot".
Trustee Professor Charles Daugherty, of Victoria University, said the Trust was a necessary investment to protect our biodiversity for future generations and secure what we most treasure about being New Zealanders.
Contact Nicky Barton 0273060603 or 04 499 6940