Auckland - Teachers upskill in ArcGIS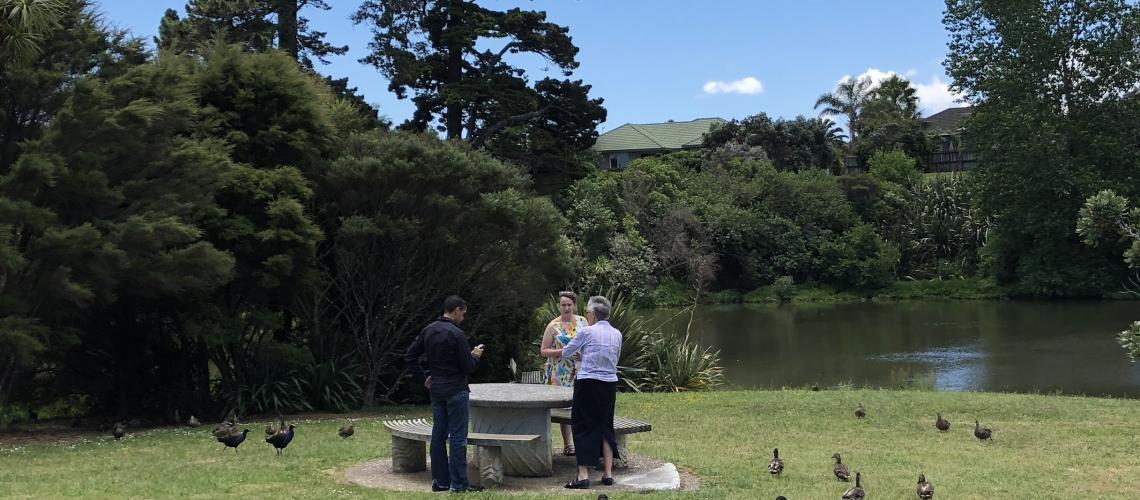 Auckland - Teachers upskill in ArcGIS
Claire Thurlow - GIS Training and Education Manager
---
In early December, Zorko Sostaric and I, travelled to Botany Downs Secondary School in Auckland to enable a group of Auckland based teachers to use GIS in their classroom in 2018.  ArcGIS Online and several of the apps that are included with an ArcGIS Online subscription were covered. There were five schools represented in the room and in most cases there were multiple teachers from a school attending.
We had a mix of abilities in the classroom. Some of the teachers had used ArcMap in the past so wanted to translate their skills to ArcGIS Online. Some of the teachers had learnt the basics of ArcGIS Online and wanted to know more. While others were total newbies to ArcGIS Online having managed to activate their schools ArcGIS Online account but not much more. We therefore, started out simple and all the teachers created some map notes on a web map reflecting the tasks set out in the ArcGIS Online basics – Editing school lesson. We then ran through how to locate and add layers of information from ArcGIS Online into a web map and then let people loose to have an explore for data they thought they could use for lessons in the classroom. This data ranged from spatial information about the Great Pacific garbage patch, to Census data for New Zealand, to the most recent earthquakes in New Zealand and the world.
We also had a look at the Geoinquiries localised to the New Zealand school curriculum that are available at the bottom of the http://www.eagle.co.nz/gis-schools page.
Just before lunch, we broke out Survey123 for ArcGIS and created a simple survey that enabled us to collect the location and some basic information about benches around the school. We then quartered the school, split into groups and escaped the classroom with our devices to capture some 'real' data. After about a 20 minute field trip we returned to the classroom to view our data in a web map and to have an interesting discussion about the quality and precision of the data captured. In the end it all came back to the age old question of how good is good enough for data accuracy?
Once back from a late lunch we took a stroll through Story Maps (both worldwide and local) and discussed how they could be used in the classroom by teachers and / or students.
As our final task of the day we plunged into the NCEA level 1, 2 and 3 resources available on the GIS in Schools website
NCEA Level 1
NCEA Level 2
NCEA Level 3
A big thank you to Sally Brodie for organising this event and Botany Downs Secondary College for hosting us in December.
#NZGISinSchools
View all blog posts