News
DEVELOPER/SOFTWARE ENGINEER
Eagle Technology is the distributor for the world's leading Geographic Information Systems (GIS) software products and services. With a large pool of experienced GIS professionals in New Zealand, we deliver enterprise geospatial information solutions to organisations in both public and private sectors across New Zealand.
We are looking for a software developer based in our AUCKLAND office, who will play a key role in the design, installation, testing and maintenance of software systems. You will help businesses be more efficient and enable Eagle Technology to provide a superior service.
Main activities:
Define user requirements
Articulate and solve complex problems through application design, and software development
Design and build desktop, server and web solutions that seamlessly run on-premise and on cloud platforms
Collaborate with other team members within an Agile software development environment
Design and build solutions that leverage the Esri ArcGIS Platform (typically through REST services)
Ensure that ArcGIS can meet real-world usage scenarios and integrate with enterprise systems e.g. Infor, SAP, SharePoint, etc.
Ensure that software releases follow a proper deployment practice through automation via continuous integration, continuous delivery or continuous deployment
Key Skills Required:
Excellent understanding of software development
Excellent understanding of object-oriented programming (OOP) languages
Good experience with front-end development technologies using JavaScript, HTML and CSS
Knowledge of C# ASP.NET or any other server-side technology e.g. PHP, NodeJS
Experience with REST web services
Experience with version control systems such as Git and code management systems such as Bitbucket, GitHub, etc.
Good understanding in advanced JavaScript libraries and frameworks such as jQuery, Dojo, ReactJS and AngularJS
Familiarity with front-end built tools such as Yarn, Grunt and Node.js
Experience with Microsoft Visual Studio and C#.NET
Typical Experience:
2+ years of commercial software experience
High-level understanding of how GIS systems work e.g. Esri ArcGIS, Bing Maps, Google Maps, etc.
Understanding of algorithms and software design patterns
Fluent in and passionate about software development
Excellent written and verbal communication skills
Tertiary qualifications in software engineering (master's qualification preferred)
If you are interested in the position, please respond to
jane_crawford@eagle.co.nz
and include a cover letter and 2/3 page CV/Resume.  
Applications close on Friday 3 August 2018.
You must already be eligible to live and work in New Zealand to be considered for the role.
Eagle Technology Group Ltd opens Christchurch office
AUCKLAND – 6th March 2018 –
Eagle Technology Group Ltd has opened an office in Christchurch to support its South Island client base. Located in the central city, the office makes real the 'virtual' office that has been run by Kenna Kelly, principal Account Manager for Eagle's South Island customers, since the earthquake of February 2011. Joining Kenna is a full service team offering Professional Services and Technical Support.
Duane Eagle, Managing Director, Eagle Technology, says the office is the culmination of a plan that began more than seven years ago. "We first opened our Christchurch office in January 2011 in Victoria Street, an area that suffered extensive damage just one month later, and necessitated Kenna's move to her home as a base, supported remotely by the wider team out of Wellington and Auckland. During this time our South Island customers have grown to include more than 150 organisations across sectors including Local Government, Infrastructure, Agriculture, Utilities, Education, Iwi, Consulting and Business."
"We have a number of very long-standing customers, particularly in local and regional government , as well as a burgeoning number in other sectors, such as Forestry and Infrastructure. As a full-service IT infrastructure and GIS practice, we've provided GIS solutions to solve a number of problems relating to the Christchurch re-build, and have been active in assisting with Common Operating systems for Emergency Management teams in more recent events, such as the Port Hills fires and the Kaikoura earthquakes. So it's very exciting after a seven year hiatus, to have a permanent, accessible local base for our team and our customers."
Eagle Technology is the distributor for Esri's ArcGIS platform, and will also now be offering instructor led training courses in Christchurch as part of the regular training schedule.
Christchurch Office Location:
Eagle Technology, Billens Building, Suite 7, Level 1, 177 High St, Christchurch, 8011
Postal:
Eagle Technology, PO Box 22656, CBD, Christchurch, 8140
January 17, 2018
Call for entries - NZ Esri Young Scholar Award
Are you a student using Esri's ArcGIS to complete a project or to conduct a research project? Then you may be eligible to apply to be New Zealand's Esri Young Scholar.
Eagle Technology, the distributor for Esri in New Zealand, is seeking entries for this prestigious award. The winner will receive:
Registration for Esri Education Summit @ Esri UC and Esri International User Conference, San Diego
Travel, accommodation and meal costs (to a maximum of 7 nights)
Award and photo with Jack Dangermond, President, Esri
An ArcGIS Personal Use License
29 November 2017
Duane Eagle steps into Leadership Role
The Board of Eagle Technology wishes to advise the resignation of Mark Allan, CEO, effective today. The Board acknowledges the considerable contribution Mark has given to Eagle Technology through the past eight months as Eagle has effected change and growth as a full-service Geospatial, Communications and Managed Services provider.
"Mark has been instrumental in identifying key markets and managing internal processes to meet demand as our business continues to grow. He leaves Eagle to pursue personal and other business interests," says Duane Eagle, Executive Director, Eagle Technology.
The Board wishes to announce that Duane Eagle will assume Mark's responsibilities, stepping into the leadership role for the family owned business that was established by his late father Trevor Eagle and his mother, Corallie Eagle, forty-eight years ago.
Duane Eagle has worked in the business for twenty-seven years, initially in Sales, as Business Development Manager and in his current role for the past five years. 
Mapping tool to help wilding conifer control
A new mapping tool is giving wilding tree control groups a complete picture of infestations throughout the country.
Launching the Wilding Conifer Information System in Queenstown yesterday, Minister for Land Information Mark Mitchell said the tool would ''underpin'' a Government-led programme to control the spread of wilding trees.
The web-based analytical tool, which maps and monitors infestations, would be used by Land Information New Zealand (Linz), Ministry for Primary Industries, Department of Conservation, New Zealand Defence Force, regional and district councils and community groups such as the Wakatipu Wilding Conifer Control Group.
Based on the Esri GIS mapping software platform, it had been developed by Linz over about two years, in conjunction with Auckland-based IT company Eagle Technology.
''The tool provides for accurate and nationally consistent standards to record data about infestations and control activities,'' Mr Mitchell said.
''This information will be vital at both regional and national levels when it comes to making decisions about where to prioritise funding for control.''
The system included a mobile app for field workers to record information in real time.
Wilding trees were affecting more than 2million ha of land, and spreading at an estimated rate of 5% a year, he said.
A national programme to remove self-sown trees, spread from introduced wilding species, is in its second year.
Conservation Minister Maggie Barry said five new areas covering 371,000ha had been added to the programme for 2017-18, including the Lammermoor Range in Central Otago.
That was in addition to the more than 1million ha on which control efforts were carried out in 2016-17, Ms Barry said.
The Government is spending about $6million on the programme in 2017-18, along with nearly $2million in funding from other parties. It has allocated $16million for the programme's first four years.
The other new areas are Mid Dome, in Northern Southland, Ohau and two areas near Tekapo, in Canterbury.
By Guy Williams
NZ Esri Young Scholar
The Esri Young Scholar Award is about recognising the very best GIS students around the globe. Every year, Esri's global partners nominate 25 university students for excellence in relation to a GIS project. These projects include comprehensive research papers, software development, impactful maps, and apps that promote education, conservation, disaster response, and urban planning.
NZ Esri Young Scholar Award 2017 – Winner
Eagle Technology is pleased to announce Leigh McKenzie of the University of Otago as the Winner of the NZ Esri Young Scholar Award 2017.
To recognise this achievement, Leigh will be attending the Esri Education Conference and Esri User Conference in San Diego in July 2017. 
Leigh's project entitled Using a Geodatabase to Assess Vulnerability to Sea Level Rise in Greater South Dunedin focused on a subject that potentially has serious repercussions for many low lying areas of New Zealand. ArcGIS was utilised in her project to provide further understanding about what could go on in South Dunedin as sea levels rise.
For more details on Leigh's project view her poster at:
Using a Geodatabase to Assess Vulnerability to Sea Level Rise in Greater South Dunedin
The entries this year were really exceptional and Eagle Technology commends the following outstanding projects for the NZ Esri Young Scholar Award 2017.
Euan Forsyth for his Walking to scale: Utilising ArcGIS to implement a residential scale walkability index in Auckland project and
Stephen Ford for his Lightning Strike Prediction – Protecting Critical Assets project.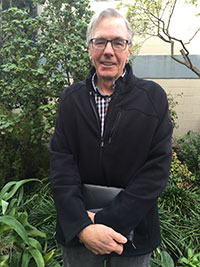 Parker Jones, a long-time Forest & Bird member, has a vision. He wants to see New Zealand rid of introduced pests. And he believes one way to do this is to use smart mapping technology.
His charity GIS in Conservation (GiC) was set up four years ago to help conservationists do their trapping, planting, and weeding work more easily (see the case studies below).
American-born Parker brought Geographic Information Systems (GIS) to New Zealand in the 1980s, when he was working as a salesman for New Zealand-owned IT company Eagle Technology. The powerful US mapping technology proved popular, and Parker sold it to lots of organisations, including the Department of Conservation, Ministry for the Environment, OSPRI, health authorities, and regional councils.
Fast forward 30 years, and conservation groups such as Forest & Bird anywhere in the world can now access GIS technology for just US$100 a year, thanks to the generosity of the American developer Esri. But using the complex computer-based technology was a barrier for many.
In 2012, Parker, decided he wanted to set up a charity to help conservation groups use the GIS technology. Parker explains: "I felt bad. I would throw this complex software at conservation groups and then leave them to it. So, I thought, why not use my experience and my love of New Zealand to give something back and make a difference?"
Parker's idea was to establish a core group of geospatial expert volunteers who could help conservation groups harness the mapping tool for the benefit of their conservation work. The volunteers and GiC's committee of experts support projects in different ways, depending on their complexity. "It has been easy to get volunteers. Many of them are very skilled and are keen to help New Zealand's conservation the skills of our volunteers. It could be anything from an easy mapping project up to something very complex." 
"I want New Zealand to be pest-free. That's the big picture, that's the vision we're all after."
GiC has helped Forest & Bird projects in the past, and Parker would be pleased to hear from any members who would like to tap into GiC's resources to help their conservation efforts. You can contact him by emailing gisconservationnz@gmail.com.
Full article including CASE STUDIES 
To find out more about GiC, see www.gicnz.org.nz.
*A version of this story first appeared in Forest & Bird magazine http://bit.ly/2h3SBAu. You can find out more about Forest & Bird's work at www.forestandbird.org.nz 
Imagery Basemap
Over the last 4 years, Eagle Technology has worked with Land Information New Zealand (LINZ) and other NZ Government agencies to take New Zealand's most current publicly-owned aerial imagery, covering over 95 percent of the country, and make this available as an open, freely available high performance Imagery Basemap. Last month this Basemap was updated with the latest imagery data captured by NZ Transport Agency (NZTA) and numerous Local and Regional Government agencies and was also enhanced to support more detailed, higher resolution views. This Basemap complements the other Eagle basemaps created from publicly-owned vector data – the NZ Topographic, NZ Community, NZ Dark Grey and NZ Light Grey basemaps. These basemaps are extremely popular, receiving millions of views each year, and now will have even more uses having also been updated with the latest data including roads, parcels and addresses.
Details of the imagery updates can be seen in this interactive Storymap.
Below are the current updates with more due over the next 6 months. In areas where this imagery supports higher resolutions the Basemap has been cached down to the 1:564 and 1:282 scale levels (*) allowing users to zoom in to street-level detail.
Northland 0.1m Urban Aerial Photos (2014-15) *
Auckland 0.075 Urban 2015 *
Waikato District 0.1m Urban_2014 *
Hamilton 0.1m Urban_2015 *
Hawkes Bay 0.3m Rural Aerial Photos (2014-15)
Wairoa 0.1m Urban Aerial Photos (2014-15) *
Hastings 0.1m urban aerial photos (2014-15) *
Whanganui 0.1m Urban Aerial Photos (2015-16) *
Palmerston North City 0.125m Urban Aerial Photos (2014-15) *
Marlborough 0.2m Rural Aerial Photos (2015-2016)
Tasman 0.3m Rural Aerial Photos (2015-16)
West Coast 0.3m Rural Aerial Photos (2015-16)
Canterbury 0.3m Rural Aerial Photos (2014-2015)
Waimakariri  0.075m Urban Aerial Photos (2015-16) *
Christchurch City 0.075m Urban Aerial Photos (2015-16) *
Canterbury 0.3m Rural Aerial Photos (2015-16)
Southland & Central Otago 0.4m Rural (2014)
Southland & Central Otago 0.4m Rural 2015
Invercargill 0.1m Urban Aerial Photos (2015-16) *
Invercargill 0.05m Urban Aerial Photos (2015-16) *
West Coast Sh6 0.15m (2016) *
Eagle Technology is a stakeholder and supporter of Predator Free NZ (PFNZ) a charitable trust formed to connect, inform and inspire others to get involved in the cause to protect New Zealand's endangered native species by eliminating the threat of introduced predators such as possums, stoats and rats.
Eagle brings its strong expertise with geospatial data and technology to map and analyse the predator management work being done across the country. To do this Eagle has been collaborating with organisations such as OSPRI, Department of Conservation, Nga Whenua Rahui, and regional councils to create a 'Big Picture' map of New Zealand showing where the gaps and opportunities lie, thus allowing the many organisations across NZ to focus their resources where and how they can be most effective.
An example of this mapping can be seen on the PFNZ website (http://predatorfreenz.org/the-big-picture/) as well as in a dedicated map viewer (http://pfnz.maps.arcgis.com/apps/Viewer/index.html?appid=00e67ff4ce7347b5976d7142b3dcc227).
As a key part of this support, Eagle's Chief Executive Gary Langford is also a Trustee and member of the PFNZ Board helping to steer the organisation. Below is the press release from Predatro Free New Zealand.
Bold Plan to make New Zealand predator free
A group of New Zealanders and independent businesses are joining forces with government agencies to create a predator free New Zealand – eradicating all rats, possums and stoats and other predators to native bird life and conservation.
The group formed the Predator Free New Zealand Trust, which will receive $575,000 over the next two years from the Community Conservation Partnerships Fund.
The Trust unveiled the first stage of its vision at the 'A Place to Live' conference in Whanganui today. It revealed a map displaying predator control areas already undertaken by public and government agencies including OSPRI, DOC and regional councils.
Stage two of the Trust's work focuses on community and private efforts, which are underway or planned.
Chairman of Predator Free New Zealand Devon McLean said the secret weapon in this battle was the countless number of New Zealanders, mainly volunteers, already dedicating millions of hours controlling the predators.
However, he said, becoming predator free would not be an easy task and would require new innovation and real commitment from all New Zealanders.
"We believe the only way that New Zealand can be predator free is if all Kiwis, in every community, in every region, accept some of the responsibility and join in the fight."
Gareth Morgan was one of the business leaders supporting the Trust. Eliminating predators was important to secure a future for our threatened native species, including our national emblem the kiwi, Dr Morgan said.
It was also a boost to our vital tourism industry, reduced diseases and increased farm output resulting in gains for our food exports and an enhanced international reputation.
The vision of a predator-free New Zealand is the brainchild of eminent physician Sir Paul Callaghan, a native of Whanganui. At his last public lecture in 2011, Sir Paul likened the vision to the first Apollo mission, saying "It's crazy, it's ambitious but I think it might be worth a shot".
Trustee Professor Charles Daugherty, of Victoria University, said the Trust was a necessary investment to protect our biodiversity for future generations and secure what we most treasure about being New Zealanders.
Contact Nicky Barton 0273060603 or 04 499 6940