News
PRESS RELEASE 27 OCTOBER 2020
Eagle Technology signs Partnership Agreement with Planet
Auckland, NZ (27 October 2020) — Eagle Technology has entered into a new partnership with Planet, the leading provider of global, near-daily satellite imagery data and insights.
Eagle Technology is the distributor for Esri's ArcGIS platform in New Zealand and the South Pacific, the global leader in GIS technology, mapping, and spatial analytics software. The partnership gives customers the ability to purchase Planet's high-cadence imagery directly from Eagle.
Planet's mission is to image the entire Earth every day and make change visible, accessible, and actionable. By providing insights into daily changes occurring in communities, the way is clear for smarter land-use planning and strategic decision-making.
Customers can access and integrate Planet's imagery within their workflows for deep-level analyses using ArcGIS Pro geoprocessing tools to build models, perform raster operations, or apply machine learning to Planet's analysis-ready imagery data.
"Esri's imagery analysis and change detection is a logical fit with Planet's mission to make global change visible," says Duane Eagle, Managing Director, Eagle Technology.
"Planet's imagery, combined with ArcGIS software, means our customers can plan and monitor workflows with current imagery to map and track change more frequently than ever before."
"We are very excited about our partnership with Eagle Technology. Our mutual alignment with Esri and the calibre of skills they bring to market will help customers see immense value from access to Planet's satellite imagery and analytics." says Simon Campbell, Director Channels & Alliances APAC, Planet.
For more information:
Email:planet@eagle.co.nz
Doug Stark: 021 24 8 4868
PRESS RELEASE 21 OCTOBER 2020
Eagle Technology signs Partnership Agreement with Clearion
Auckland, NZ (20 October 2020) — Eagle Technology has entered into a new partnership with Clearion, a Gold Tier member of the Esri Partner Network.
Founded in 2007, Clearion meets the market with technology that addresses the needs of vegetation management programmes mired in paperwork to manage safety and compliance. Initially centered on Utilities' works programmes, Clearion's field planning applications, mobile applications and asset mapping workflows have expanded to include Telecom, Gas and Transportation.
At its core, Clearion utilises the Esri platform, with its suite of web portals, dashboards, and cross-platform mobile applications.
Eagle Technology is the distributor for Esri's ArcGIS platform in New Zealand and the South Pacific, the global leader in GIS technology, mapping, and spatial analytics software.
"We have already seen the advantages of the Clearion solution as utilised by WEL Networks during the Covid-19 lockdown. WEL was able to digitally schedule and assign work to vegetation teams adhering to strict COVID-19 social distancing and contact tracing requirements," says Duane Eagle, Managing Director, Eagle Technology.
"Esri users already have the tools for implementing Clearion in a single, integrated system and delivers across multiple user platforms including web, desktop, tablets, and other handheld devices.
"Clearion has enjoyed collaborating with Eagle Technology over the past several years, and we are excited to formalize our work together through this new partnership," adds Chris Kelly, Clearion Co-founder and CEO.
"The success of WEL Networks and our other early adopters in New Zealand demonstrates the fit of the Clearion solutions in the market. It also highlights the ability of utility and infrastructure organisations in New Zealand to successfully deploy and adopt geospatial software solutions that dramatically improve the safety and effectiveness of maintenance operations. We look forward to seeing this success extend out to other utilities and transportation organisations across the country under our partnership with Eagle Technology."
For more information:
Web: www.eagle.co.nz/utilities
Email: clearion@eagle.co.nz
Dan Clark: 021 274 9753
About Clearion
Clearion's technology helps solve complex infrastructure maintenance and construction workflows. From supervision to design, planning to the crew, Clearion delivers across multiple user platforms including web, desktop, tablets, and other handheld devices.
Clearion is a leader in end-to-end technology solutions designed to help companies radically transform their work environments, strengthen communication among workgroups, and serve their customers more effectively.
Clearion works with leading utility, telecom, gas, and transportation companies across the globe to solve complex operational challenges—and provide highly innovative solutions to aid in the design, construction, and maintenance of utility assets and large-scale infrastructure. Clearion is a Gold Tier member of the Esri Partner Network.

Maps for Farm Management
Maps have always played an important role in farm management. Now with technolo­gies like geographic information systems (GIS) the maps are digital and that, says, Eagle Technology' Lauren McArtney, means they can do much more with them.
Unlike paper maps, GIS maps are living documents. Farmers can update them in an instant and share them with key stakeholders such as suppliers, government or customers. They represent the real world as a series of spatial layers. These layers represent the location of key as­sets, the distribution of soil types, farm activities or crop health. Armed with digital maps farmers can manage the various aspects of the farm in a dynamic and connected way including bringing in live data feeds from sensors or third party data-feeds.   
McArtney says GIS is an important way to support health and safety processes on a farm. She says: "Making a farm safe is about understanding hazards, visualising them and sharing that information in an easy to understand map for any visitors or contractors. Incidents or fresh risks can easily be recorded when and where they occur and used to act as well as for reporting. This means recording health and safety isn't a separate task, and it becomes part of a farm's everyday workflow.   
Scott Campbell, Eagle Technology's Head of GIS technology says farmers have, for a while, been capturing drone and satellite imagery and internet-of-things (IoT) sensors and these too have a location associated with them and are being incorporated within a farm's GIS.   
Campbell says "These data sources, as well as being more dynamic, can give access to valuable layers of data (for example productivity, water quality, soil moisture or weather conditions) which can be connected to other layers providing a more complete picture such as continuous temperature, water quality, crop productivity and understand how these affect one another: this takes advantage of the basic value of GIS which is connecting things through a shared location."
Farmers have used drones for some time. Campbell says a drone can capture video footage that can become a two or three-dimensional image-based farm map.
He says: "Increasingly farmers make maps using information the infrared and ultravio­let areas beyond the visible spectrum. This allows them to pick up information about things such as vegetation health."
ArcGIS provides the farmer with tools and maps that help decision making and in turn, makes for greater productivity, less waste and better sustain­ability.
More information:
Eagle Technology Agribusiness Lead: Murray McCallum
E: mrm@eagle.co.nz
M: 021 763 044
www.eagle.co.nz/agtech
Register for the Eagle Technology Agtech webinar: https://bit.ly/3fHwXN1

COVID-19 - Eagle Technology Business Continuity
UPDATE 30 March 2020 - Accessing your ArcGIS Licenses working from the Home Office
As the situation surrounding COVID-19 continues to evolve, Eagle Technology is committed to keeping its people safe and is following guidelines from the Ministry of Health. We have now activated our business continuity plan so that we can continue to support all our customers. This means that the majority of our staff will be working remotely, leveraging the necessary technology to continue business as usual.
What will this mean for you? You will still be able to contact all staff whilst accessing the services and support you need. Communications will move to a virtual-first approach which includes meetings, events, and training where, for example, all instructor-led courses will now be delivered online until further notice.
For users of Esri software and services, Esri has released the following statement, with Eagle Technology's support:
Esri is fully prepared to maintain operations during the coronavirus disease 2019 (COVID-19) pandemic. We have not experienced any significant business impact or interruption. We have a business continuity plan in place across all business units, including technology support and customer service, to ensure resilience. We will continue to fully serve our users, partners, and employees without disruption.
Additionally, we wanted to highlight the following resources currently available for you to access and use:
Esri COVID-19 GIS Hub – this hub provides a collection of authoritative global datasets, reporting dashboards and other useful content. This includes access to ArcGIS Online with ArcGIS Hub Basic as well as the ArcGIS Hub Coronavirus Response template.
Request for Eagle Assistance – locally, Eagle's Emergency Support Programme is available for requests for assistance related to such emergency events as COVID-19. Our team work with Esri's Disaster Response Programme team to support you in times of need.
Alongside these, our dedicated support lines continue to remain open:
General: https://www.eagle.co.nz/it-services/support
GIS specific: https://www.eagle.co.nz/gis-solutions/gis-support
Eagle Technology will continue to keep you informed of any changes to these arrangements and appreciate your flexibility and support during this unprecedented situation we are facing.
Please stay healthy and take care of one another and your families.
Regards,

Duane Eagle
Managing Director
Eagle Technology
NZTM Basemaps zoom levels upgrade
Beneath every engaging WebMap, lies an unsung hero: a Basemap. A Basemap provides a background of geographic context for the content in your maps. Eagle Technology offers a range of Basemaps in the New Zealand Transverse Mercator (NZTM) Projection that you can choose from when you create a new map. These Basemaps are used by hundreds of organisations across New Z, with the most popular of the bunch being the New Zealand Imagery Basemap, one which is updated regularly with the latest publicly-owned aerial imagery. Over the years, we have seen the usage of our Basemaps grow, and in those years, the requirements of our users have changed. That is why we'll be making some changes to our existing Basemaps.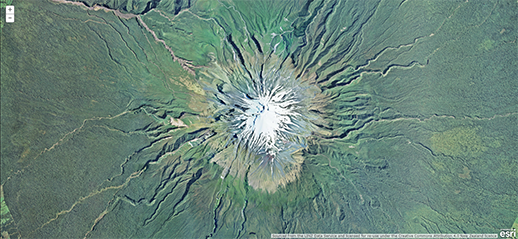 As part of its definition, every Basemap has rules to say how far you can zoom in and out in most of the apps and over the years we have received requests to allow for more zoom levels to support different use cases. A couple of years ago we added more zoom levels to our imagery Basemap, which now zooms in to 1:282. 
Later this month (planned for 4pm Wednesday 18/12/19) we will be expanding the zoom levels even further for all our Basemaps. We will add levels to the smaller scales (to allow you zoom further out beyond New Zealand's coastline) and more importantly add new zoom levels to the larger scales (for zooming right in). The smallest scale will be 1: 591,657,527 and the largest scale will be 1:70. 
Please find more information about the transition and how it may affect you see the blog
Vector Basemaps in NZTM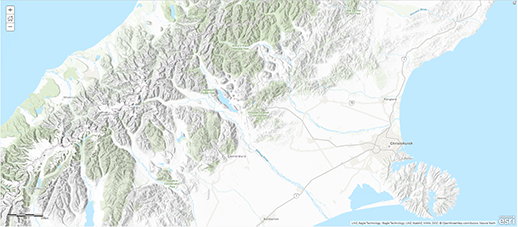 To complement our existing raster Basemaps, the content team is working hard on the next generation of Basemaps in the New Zealand Transverse Mercator projection: vector Basemaps. These Basemaps are cached and delivered as vector tiles and are rendered client-side based on a style file that is delivered with the vector tiles. 
The content team has released the second beta of the NZ Topographic Map and will be fully releasing that map soon. You can find the layer and map in this group (be sure to join this group as we will be adding the final releases and new beta styles to this group). The NZ Topographic Map is based on the World Topographic map from Esri. After the NZ Topographic Map, we plan on releasing more styles as vector Basemaps like the Canvas maps, Navigation map and a hybrid style that can be overlaid with the NZ Imagery Basemap. 
Please keep an eye out on our blog post where we will be adding more information shortly more information about the new Vector Basemaps and how you can style them and add them to your Basemap gallery.
Submissions are now open for the NZ Esri Young Scholar Award 2020
The NZ Esri Young Scholar Award enables one NZ Scholar to showcase a GIS Project they have completed with excellence on an international scale at the Esri User Conference in San Diego, CA, United States of America. The 2020 NZ Esri Young Scholar will also connect with other Young Scholars from around the world and have the opportunity to immerse themselves in the huge international Esri User Conference itself, an unforgettable experience. The GIS project that is submitted for the Award can include comprehensive research papers, software development, impactful maps, and apps that promote education, conservation, disaster response, and urban planning.
Are you a student using Esri's ArcGIS to complete a project or to conduct a research project? Then you may be eligible to apply to be New Zealand's Esri Young Scholar.
Eagle Technology, the distributor for Esri in New Zealand, is seeking entries for this prestigious award. The winner will receive:
Registration for Esri Education Summit @ Esri UC and Esri International User Conference, San Diego
Travel, accommodation and meal costs (to a maximum of 7 nights)
Award and photo with Jack Dangermond, President, Esri
An ArcGIS Personal Use License
The award is presented at a Special Achievement in GIS award ceremony during the week of the Esri UC 2020, July 13 – 17, San Diego, CA.
What you need to know:
You must be aged 30 or younger
You must be enrolled in an undergraduate or graduate program in a New Zealand university 2020 OR have graduated from a New Zealand University in 2019
How should you apply?
Submit your entry to gistraining@eagle.co.nz by 5pm, 3 April, 2020.
Your submission should include*:
A brief summary of your project and how you used ArcGIS in one or more of the following areas of benefit:

Furthering Scientific Knowledge, in a relevant area of study such as marine biology, geography, geology etc.
Better decision making, using GIS to allow an organisation or individual to make more informed decisions based upon locational data and analysis, possibly combined with non GIS information.
Managing geographically, GIS is becoming essential to understand what is going on. Using GIS to improve understand of a process such as development of a landform, environmental impact of chemical discharge, spread of disease.
An A2 or larger poster illustrating your maps and summarising your use of GIS technology in your project (PDF or PNG format at 300 dpi resolution)
A self-photo (head and shoulders) at minimum 300 dpi resolution
*A link to a downloadable file on Dropbox or similar is acceptable Terms and Conditions

Waikato Open Data LAUNCH and Information Session
Wednesday 19th June 
Drop in between 3-7pm
Tuakau Hall, 70 George St, Tuakau
Presentations – 3:30pm-4pm, 5:45pm-6:30pm
Waikato Councils supported by Waikato LASS (Local Authority Shared Services) invite you to the Waikato district launch and public information session of the
Waikato Data Portal
.
The Waikato Data Portal is a public platform that Waikato Councils have established to share our data. We believe that knowledge is power and that by working together to make our data free and open it will promote progress, unlock innovation, and by its creative use, result in economic value for our region.
Join us for a demo of the Portal, and to hear about this exciting work and how you can interact with us to improve the data that is available.
HawkEye 360 Introduces Strategic Partner Program and Announces Eagle Technology as the Strategic Partner for New Zealand
HawkEye 360 continues building a global presence, with Eagle Technology to bring radio frequency (RF) geoanalytics to New Zealand.
PRESS RELEASE  UPDATED: AUG 21, 2018
HERNDON, Va., August 21, 2018 (Newswire.com) - HawkEye 360 Inc., the first commercial company to use formation flying small satellites to create a new class of radio frequency (RF) geoanalytics, is introducing a Strategic Partner Program to broaden access to its products and announces Eagle Technology as the Strategic Partner for New Zealand.
"HawkEye 360 is building an international network of partners that will help us commercialize and distribute our unique analytics," said Beau Jarvis, Chief Revenue Officer, HawkEye 360. "We consider Eagle Technology a key ally, with expertise to apply our data to better serve the people of New Zealand. Not only are they a talented team of RF and geospatial professionals, but they are also a premier provider to their local and national governments."
Eagle Technology will distribute and build upon HawkEye 360 analytics for a variety of applications, such as Maritime Domain Awareness (MDA) and spectral mapping. HawkEye 360 can identify and track ships based on radio signals, which will enable Eagle Technology to monitor the oceans around New Zealand and near Antarctica for environmental, economic and security concerns. HawkEye 360 can also precisely map active radio emissions, equipping Eagle Technology to locate interfering signals and advise on how to efficiently deploy spectrum.
"HawkEye 360 is building an international network of partners that will help us commercialize and distribute our unique analytics. We consider Eagle Technology a key ally, with expertise to apply our data to better serve the people of New Zealand."
BEAU JARVIS
CHIEF REVENUE OFFICER
"Eagle Technology has a long history of bringing innovative solutions to the New Zealand market and HawkEye 360's data products and solutions are complementary to many of the other geospatial solutions that we already represent. We are excited to be able to take this capability to our local customers to enable and support their critical decision making," said Duane Eagle, Managing Director, Eagle Technology.
Based in Auckland, Eagle Technology is the leading provider of Geographic Information Systems (GIS) and geospatial services for New Zealand and the South Pacific Islands, supporting a variety of commercial and government clients. The company has helped solve a range of challenges, from search and rescue and emergency management to making smarter decisions about utilities and infrastructure.
More information about HawkEye 360 can be found at www.he360.com. For information on Eagle Technology, visit www.eagle.co.nz.
About HawkEye 360
HawkEye 360 is a Radio Frequency (RF) data analytics company. We operate the first of its kind commercial satellite constellation to identify, process, and geolocate a broad set of RF signals. With this unique dataset and our suite of proprietary processing and machine learning tools, we create powerful data analytic products that solve hard challenges for our global customers. Our products include maritime domain awareness and spectrum mapping and monitoring designed to serve a wide range of commercial, government and international customers.
About Eagle Technology Group
Eagle Technology Group Ltd is a privately held New Zealand-owned information management company, formed in 1969. It has approximately 100 employees with offices in Auckland, Wellington and Christchurch. Eagle Technology has a long-established and successful geospatial technology practice in Geographic Information Systems (GIS) and related technologies, communications and Field Force Management as well as expertise and experience in on-premise ICT infrastructure, Cloud and managed services provision. Eagle Technology is the distributor for global software leader Esri's ArcGIS platform in New Zealand and the South Pacific. Its traditional client base is in government, local government and enterprise-class commercial organisations.
Eagle Technology Group Ltd opens Christchurch office
AUCKLAND – 6th March 2018 –
Eagle Technology Group Ltd has opened an office in Christchurch to support its South Island client base. Located in the central city, the office makes real the 'virtual' office that has been run by Kenna Kelly, principal Account Manager for Eagle's South Island customers, since the earthquake of February 2011. Joining Kenna is a full service team offering Professional Services and Technical Support.
Duane Eagle, Managing Director, Eagle Technology, says the office is the culmination of a plan that began more than seven years ago. "We first opened our Christchurch office in January 2011 in Victoria Street, an area that suffered extensive damage just one month later, and necessitated Kenna's move to her home as a base, supported remotely by the wider team out of Wellington and Auckland. During this time our South Island customers have grown to include more than 150 organisations across sectors including Local Government, Infrastructure, Agriculture, Utilities, Education, Iwi, Consulting and Business."
"We have a number of very long-standing customers, particularly in local and regional government , as well as a burgeoning number in other sectors, such as Forestry and Infrastructure. As a full-service IT infrastructure and GIS practice, we've provided GIS solutions to solve a number of problems relating to the Christchurch re-build, and have been active in assisting with Common Operating systems for Emergency Management teams in more recent events, such as the Port Hills fires and the Kaikoura earthquakes. So it's very exciting after a seven year hiatus, to have a permanent, accessible local base for our team and our customers."
Eagle Technology is the distributor for Esri's ArcGIS platform, and will also now be offering instructor led training courses in Christchurch as part of the regular training schedule.
Christchurch Office Location:
Eagle Technology, Billens Building, Suite 7, Level 1, 177 High St, Christchurch, 8011
Postal:
Eagle Technology, PO Box 22656, CBD, Christchurch, 8140
29 November 2017
Duane Eagle steps into Leadership Role
The Board of Eagle Technology wishes to advise the resignation of Mark Allan, CEO, effective today. The Board acknowledges the considerable contribution Mark has given to Eagle Technology through the past eight months as Eagle has effected change and growth as a full-service Geospatial, Communications and Managed Services provider.
"Mark has been instrumental in identifying key markets and managing internal processes to meet demand as our business continues to grow. He leaves Eagle to pursue personal and other business interests," says Duane Eagle, Executive Director, Eagle Technology.
The Board wishes to announce that Duane Eagle will assume Mark's responsibilities, stepping into the leadership role for the family owned business that was established by his late father Trevor Eagle and his mother, Corallie Eagle, forty-eight years ago.
Duane Eagle has worked in the business for twenty-seven years, initially in Sales, as Business Development Manager and in his current role for the past five years. 
Mapping tool to help wilding conifer control
A new mapping tool is giving wilding tree control groups a complete picture of infestations throughout the country.
Launching the Wilding Conifer Information System in Queenstown yesterday, Minister for Land Information Mark Mitchell said the tool would ''underpin'' a Government-led programme to control the spread of wilding trees.
The web-based analytical tool, which maps and monitors infestations, would be used by Land Information New Zealand (Linz), Ministry for Primary Industries, Department of Conservation, New Zealand Defence Force, regional and district councils and community groups such as the Wakatipu Wilding Conifer Control Group.
Based on the Esri GIS mapping software platform, it had been developed by Linz over about two years, in conjunction with Auckland-based IT company Eagle Technology.
''The tool provides for accurate and nationally consistent standards to record data about infestations and control activities,'' Mr Mitchell said.
''This information will be vital at both regional and national levels when it comes to making decisions about where to prioritise funding for control.''
The system included a mobile app for field workers to record information in real time.
Wilding trees were affecting more than 2million ha of land, and spreading at an estimated rate of 5% a year, he said.
A national programme to remove self-sown trees, spread from introduced wilding species, is in its second year.
Conservation Minister Maggie Barry said five new areas covering 371,000ha had been added to the programme for 2017-18, including the Lammermoor Range in Central Otago.
That was in addition to the more than 1million ha on which control efforts were carried out in 2016-17, Ms Barry said.
The Government is spending about $6million on the programme in 2017-18, along with nearly $2million in funding from other parties. It has allocated $16million for the programme's first four years.
The other new areas are Mid Dome, in Northern Southland, Ohau and two areas near Tekapo, in Canterbury.
By Guy Williams
NZ Esri Young Scholar
The Esri Young Scholar Award is about recognising the very best GIS students around the globe. Every year, Esri's global partners nominate 25 university students for excellence in relation to a GIS project. These projects include comprehensive research papers, software development, impactful maps, and apps that promote education, conservation, disaster response, and urban planning.
NZ Esri Young Scholar Award 2017 – Winner
Eagle Technology is pleased to announce Leigh McKenzie of the University of Otago as the Winner of the NZ Esri Young Scholar Award 2017.
To recognise this achievement, Leigh will be attending the Esri Education Conference and Esri User Conference in San Diego in July 2017. 
Leigh's project entitled Using a Geodatabase to Assess Vulnerability to Sea Level Rise in Greater South Dunedin focused on a subject that potentially has serious repercussions for many low lying areas of New Zealand. ArcGIS was utilised in her project to provide further understanding about what could go on in South Dunedin as sea levels rise.
For more details on Leigh's project view her poster at:
Using a Geodatabase to Assess Vulnerability to Sea Level Rise in Greater South Dunedin
The entries this year were really exceptional and Eagle Technology commends the following outstanding projects for the NZ Esri Young Scholar Award 2017.
Euan Forsyth for his Walking to scale: Utilising ArcGIS to implement a residential scale walkability index in Auckland project and
Stephen Ford for his Lightning Strike Prediction – Protecting Critical Assets project.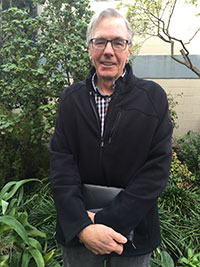 Parker Jones, a long-time Forest & Bird member, has a vision. He wants to see New Zealand rid of introduced pests. And he believes one way to do this is to use smart mapping technology.
His charity GIS in Conservation (GiC) was set up four years ago to help conservationists do their trapping, planting, and weeding work more easily (see the case studies below).
American-born Parker brought Geographic Information Systems (GIS) to New Zealand in the 1980s, when he was working as a salesman for New Zealand-owned IT company Eagle Technology. The powerful US mapping technology proved popular, and Parker sold it to lots of organisations, including the Department of Conservation, Ministry for the Environment, OSPRI, health authorities, and regional councils.
Fast forward 30 years, and conservation groups such as Forest & Bird anywhere in the world can now access GIS technology for just US$100 a year, thanks to the generosity of the American developer Esri. But using the complex computer-based technology was a barrier for many.
In 2012, Parker, decided he wanted to set up a charity to help conservation groups use the GIS technology. Parker explains: "I felt bad. I would throw this complex software at conservation groups and then leave them to it. So, I thought, why not use my experience and my love of New Zealand to give something back and make a difference?"
Parker's idea was to establish a core group of geospatial expert volunteers who could help conservation groups harness the mapping tool for the benefit of their conservation work. The volunteers and GiC's committee of experts support projects in different ways, depending on their complexity. "It has been easy to get volunteers. Many of them are very skilled and are keen to help New Zealand's conservation the skills of our volunteers. It could be anything from an easy mapping project up to something very complex." 
"I want New Zealand to be pest-free. That's the big picture, that's the vision we're all after."
GiC has helped Forest & Bird projects in the past, and Parker would be pleased to hear from any members who would like to tap into GiC's resources to help their conservation efforts. You can contact him by emailing gisconservationnz@gmail.com.
Full article including CASE STUDIES 
To find out more about GiC, see www.gicnz.org.nz.
*A version of this story first appeared in Forest & Bird magazine http://bit.ly/2h3SBAu. You can find out more about Forest & Bird's work at www.forestandbird.org.nz 
Imagery Basemap
Over the last 4 years, Eagle Technology has worked with Land Information New Zealand (LINZ) and other NZ Government agencies to take New Zealand's most current publicly-owned aerial imagery, covering over 95 percent of the country, and make this available as an open, freely available high performance Imagery Basemap. Last month this Basemap was updated with the latest imagery data captured by NZ Transport Agency (NZTA) and numerous Local and Regional Government agencies and was also enhanced to support more detailed, higher resolution views. This Basemap complements the other Eagle basemaps created from publicly-owned vector data – the NZ Topographic, NZ Community, NZ Dark Grey and NZ Light Grey basemaps. These basemaps are extremely popular, receiving millions of views each year, and now will have even more uses having also been updated with the latest data including roads, parcels and addresses.
Details of the imagery updates can be seen in this interactive Storymap.
Below are the current updates with more due over the next 6 months. In areas where this imagery supports higher resolutions the Basemap has been cached down to the 1:564 and 1:282 scale levels (*) allowing users to zoom in to street-level detail.
Northland 0.1m Urban Aerial Photos (2014-15) *
Auckland 0.075 Urban 2015 *
Waikato District 0.1m Urban_2014 *
Hamilton 0.1m Urban_2015 *
Hawkes Bay 0.3m Rural Aerial Photos (2014-15)
Wairoa 0.1m Urban Aerial Photos (2014-15) *
Hastings 0.1m urban aerial photos (2014-15) *
Whanganui 0.1m Urban Aerial Photos (2015-16) *
Palmerston North City 0.125m Urban Aerial Photos (2014-15) *
Marlborough 0.2m Rural Aerial Photos (2015-2016)
Tasman 0.3m Rural Aerial Photos (2015-16)
West Coast 0.3m Rural Aerial Photos (2015-16)
Canterbury 0.3m Rural Aerial Photos (2014-2015)
Waimakariri  0.075m Urban Aerial Photos (2015-16) *
Christchurch City 0.075m Urban Aerial Photos (2015-16) *
Canterbury 0.3m Rural Aerial Photos (2015-16)
Southland & Central Otago 0.4m Rural (2014)
Southland & Central Otago 0.4m Rural 2015
Invercargill 0.1m Urban Aerial Photos (2015-16) *
Invercargill 0.05m Urban Aerial Photos (2015-16) *
West Coast Sh6 0.15m (2016) *
Eagle Technology is a stakeholder and supporter of Predator Free NZ (PFNZ) a charitable trust formed to connect, inform and inspire others to get involved in the cause to protect New Zealand's endangered native species by eliminating the threat of introduced predators such as possums, stoats and rats.
Eagle brings its strong expertise with geospatial data and technology to map and analyse the predator management work being done across the country. To do this Eagle has been collaborating with organisations such as OSPRI, Department of Conservation, Nga Whenua Rahui, and regional councils to create a 'Big Picture' map of New Zealand showing where the gaps and opportunities lie, thus allowing the many organisations across NZ to focus their resources where and how they can be most effective.
An example of this mapping can be seen on the PFNZ website (http://predatorfreenz.org/the-big-picture/) as well as in a dedicated map viewer (http://pfnz.maps.arcgis.com/apps/Viewer/index.html?appid=00e67ff4ce7347b5976d7142b3dcc227).
As a key part of this support, Eagle's Chief Executive Gary Langford is also a Trustee and member of the PFNZ Board helping to steer the organisation. Below is the press release from Predatro Free New Zealand.
Bold Plan to make New Zealand predator free
A group of New Zealanders and independent businesses are joining forces with government agencies to create a predator free New Zealand – eradicating all rats, possums and stoats and other predators to native bird life and conservation.
The group formed the Predator Free New Zealand Trust, which will receive $575,000 over the next two years from the Community Conservation Partnerships Fund.
The Trust unveiled the first stage of its vision at the 'A Place to Live' conference in Whanganui today. It revealed a map displaying predator control areas already undertaken by public and government agencies including OSPRI, DOC and regional councils.
Stage two of the Trust's work focuses on community and private efforts, which are underway or planned.
Chairman of Predator Free New Zealand Devon McLean said the secret weapon in this battle was the countless number of New Zealanders, mainly volunteers, already dedicating millions of hours controlling the predators.
However, he said, becoming predator free would not be an easy task and would require new innovation and real commitment from all New Zealanders.
"We believe the only way that New Zealand can be predator free is if all Kiwis, in every community, in every region, accept some of the responsibility and join in the fight."
Gareth Morgan was one of the business leaders supporting the Trust. Eliminating predators was important to secure a future for our threatened native species, including our national emblem the kiwi, Dr Morgan said.
It was also a boost to our vital tourism industry, reduced diseases and increased farm output resulting in gains for our food exports and an enhanced international reputation.
The vision of a predator-free New Zealand is the brainchild of eminent physician Sir Paul Callaghan, a native of Whanganui. At his last public lecture in 2011, Sir Paul likened the vision to the first Apollo mission, saying "It's crazy, it's ambitious but I think it might be worth a shot".
Trustee Professor Charles Daugherty, of Victoria University, said the Trust was a necessary investment to protect our biodiversity for future generations and secure what we most treasure about being New Zealanders.
Contact Nicky Barton 0273060603 or 04 499 6940