Esri User Conference Experience 2017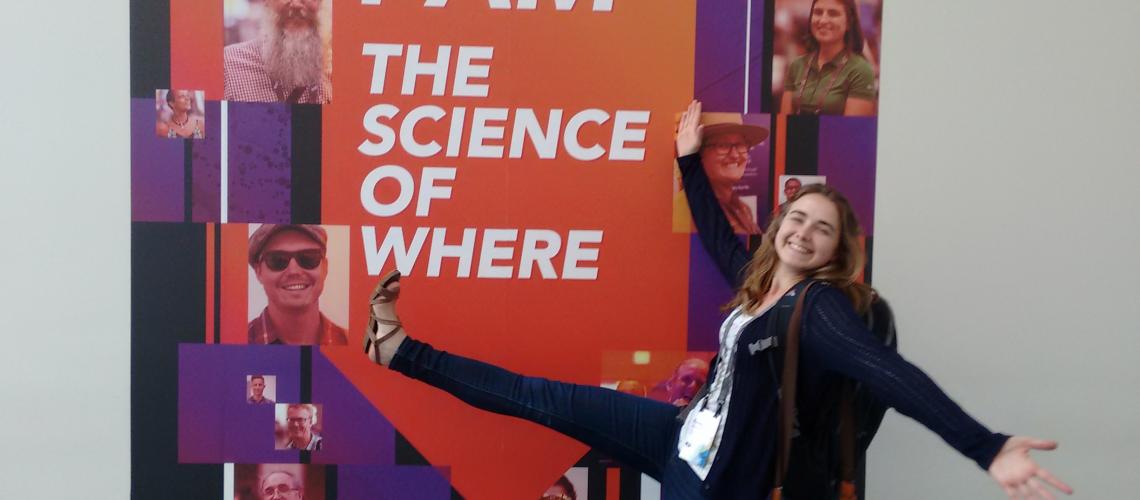 Esri User Conference Experience 2017
Leigh McKenzie - University of Otago and NZ Esri Young Scholar Award Winner 2017
---
What could be better than being surrounded by maps? Most people seem to have some kind of childish nostalgia for maps. They hold so much wonder and now they can provide so many answers. I was lucky enough to be part of a project which involved mapping the community of greater south Dunedin for what and who are most vulnerable to sea level rise. This project led me to receiving the New Zealand Esri Young Scholar Award for 2017!
Being an Esri Young Scholar came with the privilege of attending the Esri User's Conference in sunny San Diego, with flights, registration, and accommodation generously covered by Esri and the Eagle team in New Zealand. Anticipation was at an all-time high when I reached the Dunedin airport. I was so excited to be surrounded by people who were all into maps! A week long get-together for map nerds.
Twenty other students from around the world also received the same award which led to close friendships and entertaining happenings throughout the week. Some events were held especially for young attendees, and even just for the young scholars which were always a great time. I already miss the close friends I made while away.
The conference had 17980 attendees representing 136 countries. The majority of people attending were well into their GIS careers which gave me insight into options, how GIS works in the workplace, its implementation, and huge depth of the field. It also meant that young people stood out in the crowd a little bit, perhaps inviting curiosity from people who would ask how you came to be at the conference. Student speakers were inspiring, as they made me wonder about what projects I could take on myself. This will now become an opportunity for many more as Esri is creating a 'GIS in Schools' programme to make it more accessible to a younger cohort.
The vast range of events gave a lot of mingling and networking opportunities. There were sessions of different scales and types including seminars, learning labs, and practical tutorials. The sessions were inspiring, surprising, and opened my view of what is out there in the GIS realm, and even work being done around the world along the same lines as my own, but on the next level. I was absolutely fizzing with so much to learn, so many options, people to meet, and friends to make. The first hour of the conference had 54 different events you could attend! Luckily the technology savvy Esri team had created an app for the conference agenda so that you could see what was on for the day, save events to your own calendar, and create your own agenda. It was difficult to choose sessions, but I quickly realised you just have to choose ones, go for it, and don't look back. At the very end of each day I would spend half an hour in bed going through the sessions and planning my next day.
The conference ran as smooth as silk, incredible for such an immense event. By the end of the first day I was already feeling relieved but totally daunted by the coming week, however the majority of big unknowns were answered. Also, I had been lucky to bump into other Esri Young Scholars early in the first day. Being some of the youngest attendees meant it was easier to spot each other. This was a great start as it meant we were able to form a small team and find our way around together. It was a relief to have a group as we quickly became each other's support network. Lots of socialising, planning, learning, and networking for the whole coming week!
The conference gave me ideas for new career paths and made me aware of many more internships, organisations, and applications in GIS. A lot of serious learning and thought provoking discussions, but also, events such as the Young Persons Network Pool Party gave the week a whole dimension of fun and sophistication. The pool party was full of swag, it was suave, swish, sophisticated, and still young and busy. The party at Balboa Park was another level, it felt more like a fantasy than real life. Bands playing in museums, giant games in terraces, banquets in courtyards, salsa dancing by the fountain, all in a perfect, warm, ink blue evening.
I had so much anticipation for the Esri User Conference, I was excited to be surrounded by people who were passionate about maps, be able to learn more about Esri and GIS, and explore a gallery of 300 maps. However, the conference in San Diego was so much more than I ever could have made-up. This was a once in a lifetime celebration of maps and problem solving that I will never forget. This conference has provided me with so many answers and given me so much more wonder as well. Thanking the Esri and Eagle team could never be great enough for this experience and their immense support.
View all blog posts