Join us for your your ArcGIS Technology Fix - Tuesday 31st March 10a.m.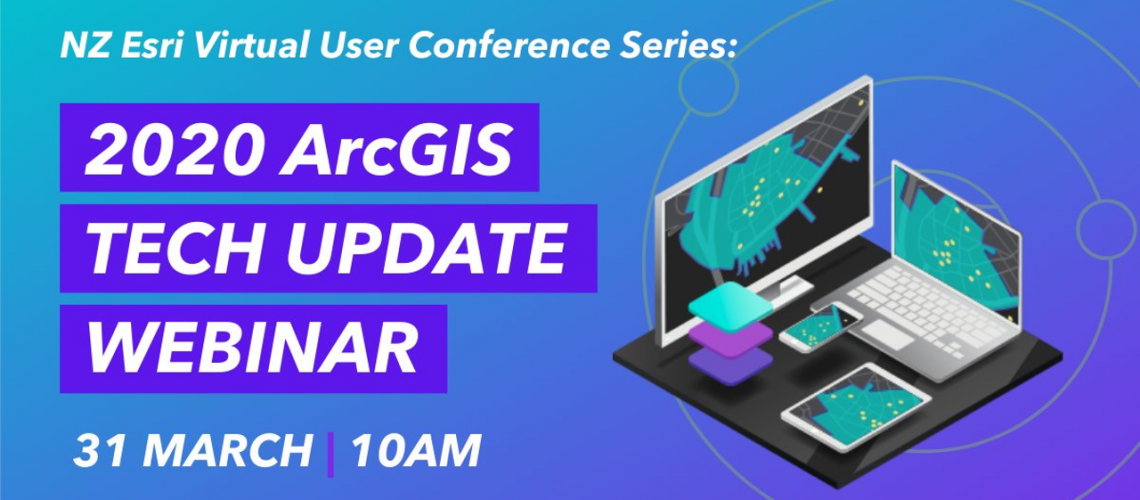 Join us for your your ArcGIS Technology Fix - Tuesday 31st March 10a.m.
---
As you have likely already heard, the 2020 NZ Esri Regional User Conferences (RUCs) and the South Pacific GIS Event have been cancelled and have been replaced by a Virtual User Conference Series. The series starts on Tuesday at 10am NZT (31/3/20) with the Eagle GIS Team giving a full technology update...virtually.
I know that our team are genuinely disappointed not to be able to catch up with many of you face to face and to learn about your own work from across the region - the RUCs are always a very intense but rewarding time for the team. However given the current situation and the applications that many of you are putting GIS to, we thought it was still very worthwhile to take the time to update you on the latest technology features within ArcGIS and the team have done their absolute best to put together an interesting and varied set of updates via the 2 hour virtual Tech Update.
From my perspective, some of the most interesting areas are the next generations of core ArcGIS technology: taking existing, highly successful apps and capabilities and boosting these with new features or updates to underlying frameworks like the updated and new Field Apps, the new StoryMaps, the new Vector Tile basemaps, the new Experience Builder (a next-gen Web App Builder) and the Web Apps based upon the updated JavaScript API such as the new WebMap Viewer.
These are updates or new versions of existing apps and capabilities which we know are widely used for your key workflows currently and for Tuesday's Tech Update we will be taking you through these new offerings and the opportunities that they open for your own work.
Alongside this we will be covering the updates to the wider platform including the most powerful desktop app, ArcGIS Pro. We'll highlight what's new in ArcGIS Online including new capabilities with Mapping & Visualisation, 3D, sharing workflows and the latest enhancements to engagement apps such as ArcGIS Hub and for those with the need for ArcGIS to be deployed in their own Infrastructure, we'll also be delving into what's new with ArcGIS Enterprise.
We do hope to have you join us for the Tech Update Session. Its open to all, free and easy to register, all you need to bring is your own time (2 hours) and your own ideas (unlimited).
Register online here.
Scott and the Eagle GIS Team.
View all blog posts