Learning is a life long journey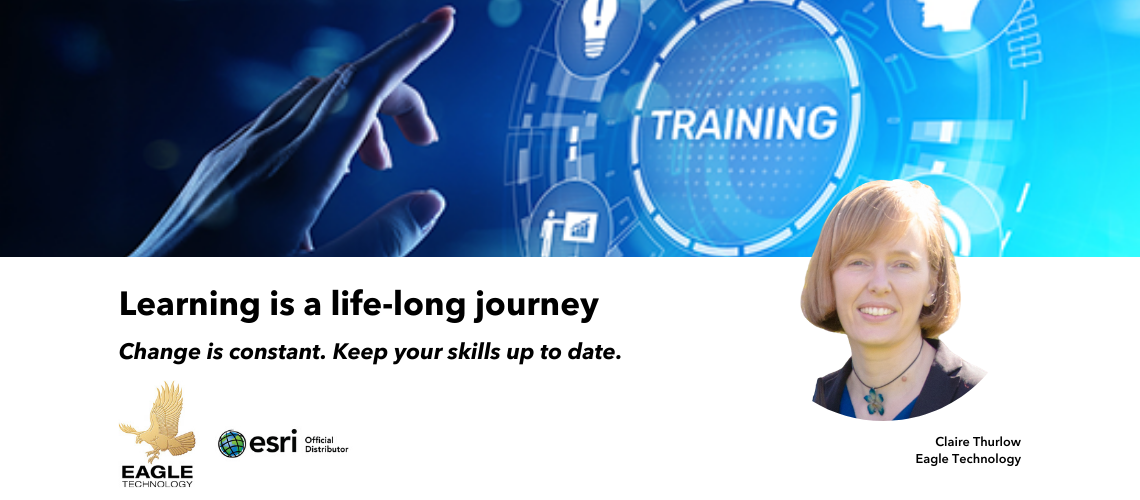 Learning is a life long journey
---
Technology is changing workplace roles, expectations, and opportunities. We believe learning is an essential strategy for success in this changing environment.
Eagle Technology's training options support GIS practitioners, non-GIS professionals, and anyone who needs to use the ArcGIS platform to support their daily workflows, enhance projects with geographic context, and create information that leads to better decision-making.
We support a variety of learning preferences.
---
Learning Preferences
Instructor-Led course
Instructor-Led courses are taught by Eagle Technology Staff members and contractors who are certified as Esri Certified Instructors or Certified Esri Trainers respectively. Classes emphasise best practices, discussion, activities and hands-on exercises. Instructor-Led courses are offered in person at an Eagle Technology venue or at your site. These courses can also be offered in the virtual classroom which is especially useful to keep travel costs low or during a pandemic. Visit https://www.eagle.co.nz/learn/course-catalogue to explore Instructor-Led courses. Eagle Technology also offers a wide range of options to customise Instructor-Led courses, please contact us at gistraining@eagle.co.nz to explore options for customised Instructor-Led training.
Webinars
Eagle Technology has an ongoing schedule of free webinars which give you short technical updates about ArcGIS. This webinars are great to get tips and watch real-world software demonstrations localised to New Zealand and/or the South Pacific. A schedule of upcoming webinars can be located on the Eagle Learn Website. Recordings of past webinars can be found at https://www.gotostage.com/channel/eagle-gis-webinars.  
 
Web Courses
Customers who pay maintenance to Eagle Technology for their ArcGIS products can access a large range of interactive self-paced courses on focused topics via the Esri Academy page. You require a paid ArcGIS Online login enabled with Esri access to access these courses
MOOCs
No-cost massive open online courses featuring video lectures, short hands-on exercises and access to Esri software. Visit https://www.esri.com/training/mooc/ for more information about Esri Massive Open Online Courses (MOOCs).
---
If you would like assistance in determining which options / courses are right for you please don't hesitate to contact Claire Thurlow, Eagle Technology's GIS Training and Education Manager. Claire can also assist you putting together a learning plan for your entire organisation to help you achieve your strategic goals.
View all blog posts