Recap: 2021 Virtual Regional User Conference Events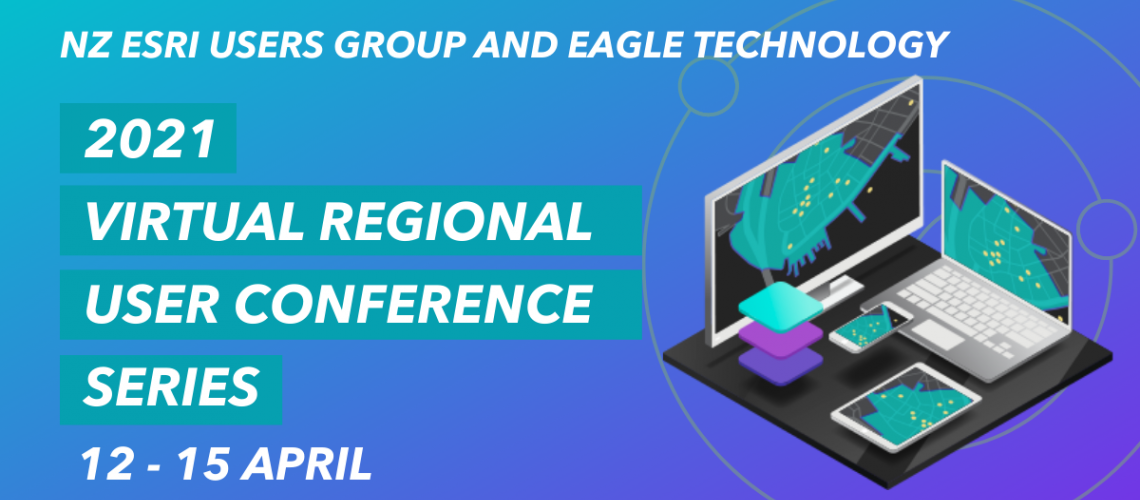 Recap: 2021 Virtual Regional User Conference Events
---
A great big thank you to all of you who contributed, organised, and joined us for the recent 2021 Virtual Regional User Conference Events from the NZ Esri User Group (NZEUG). While a virtual event cannot replace the face-to-face aspects of meeting with our awesome community, we felt that there were some really great stories shared as well as connections made and we saw valuable conversations taking place following the events at the various face-to-face meet-ups.
While the NZEUG will shortly be posting recordings of the full RUC events online, we wanted to share videos of Eagle's Technology Updates which were part of these events. These are available below as individual videos or as a complete playlist:
Eagle Technology 2021 Tech Update Playlist
Finally, alongside these we have compiled a list of the ArcGIS Technology related questions (and answers) from the events which you can see below:
Question

Answer

Is Tree classification Basemap for NZ using deep learning available on ArcGIS living atlas

The pre-trained Deep Learning packages can be found on ArcGIS Living Atlas. You can find them by going to https://livingatlas.arcgis.com or search for them in ArcGIS Online or from ArcGIS Pro.

Which license can access the planet imagery and which service to use?

Eagle is an official reseller of Planet Imagery. Despite being integrated with the ArcGIS Platform, a Planet subscription is required to access the PlanetScope, SkySat, and Planet Basemap offerings. For more information on what Planet has to offer, please get in touch with Doug_Stark@eagle.co.nz

I'm very interested in using LocalMaps reporting to generate our LIMs. Is there a tutorial available that shows start to finish how to set everything up to achieve something like was shown?

If you are interested in how to build LIM reports using LocalMaps, check out some great videos Josh Gore put together on the LocalMaps Geonet page here: https://community.esri.com/t5/localmaps-nz-blog/localmaps-how-to-videos-lim-reporting-working-with-tables/ba-p/1035770

NB. If you aren't already a member of the page, you will just need to request access first.

Can you also include a link to the Web Appbuilder developer edition support/ tutorials please?

https://developers.arcgis.com/web-appbuilder/guide/xt-welcome.htm

Question about Map Viewer now out of Beta: when will we be able to embed the maps directly into websites i.e. via iframe (taking advantage of new JavaScript). Classic can but doesn't support the latest JavaScript. cheers

There is no current specific date for this, however, a workaround, for now, would be to make a basic experience builder application and embed this.

Separate labels from the Vector tiles basemaps! Can't wait :-)

We are hoping that the separate labels will be useful for a lot of people!

Regarding the AI tools, will they require any level of programming expertise to run?

No. Several tools that use AI and machine learning are provided out of the box with ArcGIS Pro now. They will require training-dependent needs. See an example video here - https://www.youtube.com/watch?v=KCkGif6wSMo.

You can also build your own model/tools which will require knowledge around scripting and possibly programming.

Will ArcGIS Velocity replace Geoevent Server?

No. It's complementary and different with pros and cons on each option. Happy to discuss further and provide a breakdown.

What is the Enterprise 10.9 release date?

At this moment there is no set date yet. It's planned for Q2 2021, so we should be seeing it released very soon!

Is there a way to change existing ArcGIS Online organisations to use the Asia Pacific region data hosting?

Migrations are not supported at this stage. The APAC region is only available for new instances at this stage but please discuss further with your Account Manager.

When will WMTS be supported for the beta map editor?

There is no timeframe for implementation at this stage.

How can we start using the national LiDAR Elevation service?

Currently, we have a layer in ArcGIS Online that is in alpha. It contains the 1 metre DEMs for Wellington, Auckland, and Christchurch. We are currently working on adding all the currently available publicly owned LiDAR data to the layer. We will be releasing an update for this in the next few months and will send out communications about it on our blog and social media channels.

Is information regarding the online reporting use case available?

Yes, it is! We have some great walkthrough videos explaining how to use the LocalMaps Reporting on our Community Forum here: https://community.esri.com/t5/localmaps-nz-blog/localmaps-how-to-videos-lim-reporting-working-with-tables/ba-p/1035770

 

NB you will need to be a member of the page to view but just request access and we can sort it

Is partnered collaboration exclusive to AGOL? or could you do an external-facing portal to AGOL collaboration for example?

Partnered Collaboration is only available between ArcGIS Online portals. There are patterns where you combine Distributed Collaboration and Partnered Collaboration. For Example, you can set up a Distributed Collaboration between your ArcGIS Enterprise and ArcGIS Online and have your ArcGIS Online portal be part of a Partnered Collaboration.

For ArcGIS Pro, will the Locate be more like ArcMap's as I find it difficult to search for features?

The ArcGIS Pro Locate tool lets you search locations using the geocoder and it allows you to search features in layers. By default, all layers and all fields are selected for the search, but you can easily select a specific layer and specific fields in that layer. Also new in a recent release is the search function in the Attribute Table. Using the context menu of the Attribute table or just CTRL+F, search (and replace). You can select a single field or multiple fields you want to search in.

What is Kubernetes?

Kubernetes (also known as k8s) is an open-source container orchestration platform that automates many of the manual processes involved in deploying, managing, and scaling containerized applications (such as ArcGIS Enterprise). Some specific information on ArcGIS and Kubernetes is available here: https://www.esri.com/arcgis-blog/products/arcgis-enterprise/announcements/arcgis-enterprise-on-kubernetes-qa-from-dev-summit-2021/

Are you able to share some resources about partnered collaboration?

With collaborations, you can extend the reach of your GIS content by seamlessly sharing maps, apps, layers, and more with other organisations. Collaborations are based on a foundation of trust between participating organisations and are typically motivated by common goals and initiatives.

Two types of collaborations can be established with other organisations: partnered collaborations and distributed collaborations. See below for links to more information on each of these:
https://doc.arcgis.com/en/arcgis-online/administer/understand-collaborations.htm#ESRI_SECTION1_1FA3EDFCBDBE432AA9EE9B0FB62AB5F8


https://doc.arcgis.com/en/arcgis-online/administer/understand-collaborations.htm#ESRI_SECTION1_BBEBF7A56A584AA7AF499FA9E318B1C0

When should I move to ArcGIS Pro?

Eagle Technology and Esri strongly recommend that you use ArcGIS Pro as the Desktop GIS tool within your organisation as this future-proofs your workflows but allows you to take advantage of many new features and work patterns, especially those which are based on Web GIS such as sharing, collaboration and distributed processing.

How do I move to ArcGIS Pro if I have third-party extensions that have not yet been ported over to ArcGIS Pro?

Eagle Technology and Esri are actively working with 3rd party organisations (such as partners and related technology providers) to create ArcGIS pro-compatible versions of their various tools (Add-ins, Extensions, Customisations). However, if there is not an ArcGIS pro version available for a solution which you use today, then you can look at hybrid workflows where you make use of ArcGIS Pro and ArcMap depending upon the specific workflow. We are also keen to learn of any such non-ArcGIS Pro enabled solutions - we may be able to help.

Should we be migrating Web Apps built in Web App Builder to ArcGIS Experience Builder?

Web AppBuilder and Experience Builder are not at parity - Web AppBuilder has a number of widgets that Experience Builder does not. However, Experience Builder has much more flexibility around mobile responsiveness, multiple pages, and the increased performance that comes with v4 of the JavaScript API. If Experience builder has the required functionality then upgrading may be valuable (particularly for upgrading classic StoryMaps), but there aren't currently any plans to deprecate Web AppBuilder.

What version of LocalMaps has all the new functionality talked about in the ArcGIS Technology Update?

The LocalMaps update covered the features in the current v2.3.1 version of the software.

What is the mobile geodatabase?

A mobile geodatabase is a collection of various types of GIS datasets contained in a single file on disk that can store, query, and manage spatial and nonspatial data. Mobile geodatabases are automatically available to all users of ArcGIS Pro and can be created using a variety of methods. See here for more information: https://pro.arcgis.com/en/pro-app/latest/help/data/geodatabases/manage-mobile-gdb/mobile-geodatabases.htm

Accessing Premium Imagery Services - how do I do that?

Please get in contact with your account manager to discuss the different options and services available.

How do I access the Deep Learning Models / Modules?

The Deep Learning Models can be found on ArcGIS Living Atlas: http://livingatlas.arcgis.com. Another good reference is the blog that Esri published: https://www.esri.com/arcgis-blog/products/arcgis/announcements/announcing-new-pretrained-models-at-fedgis/

How can I make our most recent imagery available in the NZ Basemap?

If you have Imagery that isn't in the NZ Imagery basemap yet and is newer than the imagery currently available, we are more than happy to add it to the NZ Imagery basemap. Please reach out to livingatlas@eagle.co.nz

When should we be using ArcGIS Online and when using ArcGIS Enterprise?

There are many different factors that play a part in answering this question. A good starting point is this document: https://enterprise.arcgis.com/en/portal/latest/administer/windows/choosing-between-an-arcgis-online-subscription-and-portal-for-arcgis.htm


Feel free to reach out to us to have a more in-depth conversation about this topic.
Thanks again for being part of and supporting a great community and we look forward to seeing you (maybe even face-to-face!) at other events later this year.
View all blog posts