Understanding Esri Technical Certification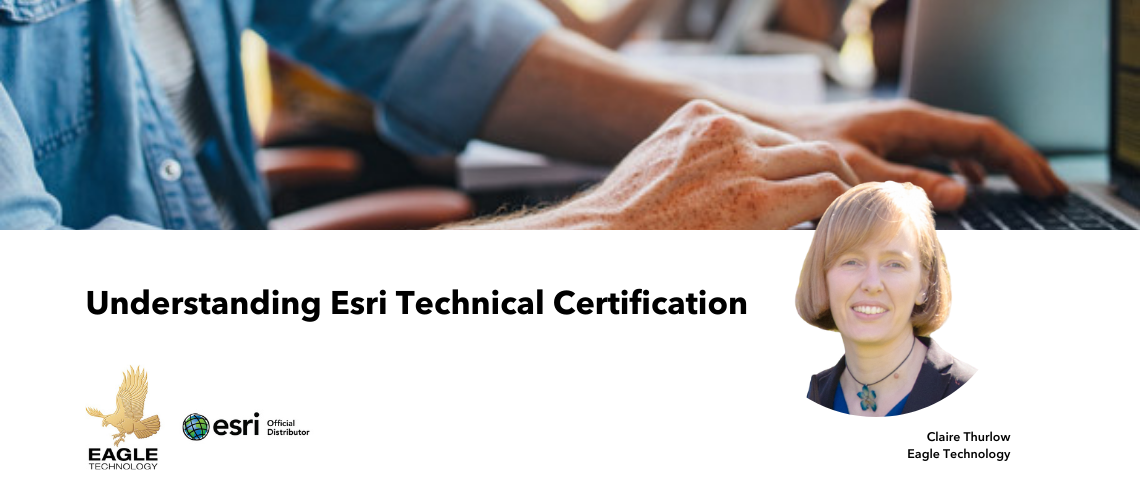 Understanding Esri Technical Certification
New to Esri Technical Certification exams? Read this blog to help you through the process of sitting an exam.
---
New to Esri Technical Certification exams? Read this blog to help you through the process of sitting an exam.
Step 1 – Decide on the exam you want to take.
Esri Technical Certification exams are outlined on the following page
https://www.esri.com/training/certification-find-exam/
You will notice that the certifications are split into two types, Core Exams and Specialty Exams. At the moment you cannot sit a specialty exam without holding a core Esri technical certification. So drill down into the details of the core exams first.
In the core exams you want to have a look for exams that either have 21 or 22 at the start of their code for example, ArcGIS Pro Foundation 2101. These exams are the most recent ones released by Esri. There are a lot of core exams, most of them are at a professional level which means they are designed for someone who has been using ArcGIS technology for some time.
If you are specifically interested in the ArcGIS Pro exams you will notice that there are several levels of exams.
ArcGIS Pro Foundation – this exam is designed for recent graduates who have only a little bit of experience with ArcGIS Pro
ArcGIS Pro Associate – this exam is designed for people have two or more years of applied experience with ArcGIS Pro
ArcGIS Pro Professional – this exam is designed for people who have at least four years of applied experience with ArcGIS Pro
If you want to sit one of the speciality developer exams and have no experience with ArcGIS Pro you probably want to sit the ArcGIS Developer Foundation core exam
Step 2 – Book your exam
Once you have decided on which exam you would like to sit, it's always useful to have a date to aim for being prepared by, so go ahead and book your exam. The booking of your exam is done through the Pearson view website https://home.pearsonvue.com/esri. If it is your first time booking an exam you will need to create an account for this website – it is not connected to your Esri username!
You have two options for sitting an exam. At a testing centre (if there is one available at you location) or online (via a proctor service). If you book in for a testing centre you may find that you have to wait months to get an exam slot. Another good reason for booking your exam up front. If you book an online exam be prepared to clear everything other than your computer away from the desk that you will be sitting at to take the exam.
Make sure that you register for your exam using exactly the same name that appears on the ID you will be using to check in for your exam. Pearson Vue is very strict about this and will not let you sit your exam unless your name matches exactly.
You will have to pay for your exam as you book it, so make sure you know how the exam is being paid for. Some organisations will ask you to pay for your exam and then submit an expense claim for the cost. Other organisations might have voucher codes that they can give you to book your exam. Other organisations might not be willing to cover the cost of a technical certification so you will have to pay for the exam yourself.
Step 3 – Prepare to sit your exam
Now that you have your exam time, what can you do to prepare to sit your exam? There are two key ways that you can prepare for your exam
Read through the exam information that is available in PDF format to make sure you know about all the skills and have all the qualifications to sit the exam. The exam information PDF can be accessed via a button from the exam description page see image below of the ArcGIS Pro Foundation description page

Work through the resources in the learning plan that Esri provides for a certification exam, for example, below is the link to the ArcGIS Pro Foundation Certification Learning Plan https://www.esri.com/training/catalog/61bbd43777f5d5238027af3e/esri-arcgis-pro-foundation-certification-2101.
Obviously Esri doesn't guarantee that you will pass the exam if you finish the resources in the Learning Plan but they will certainly give you a good foundation of learning to help you answer the exam questions.
Step 4 – Sit your exam
Head to your testing location, be that a physical testing centre or the work office at home. Be early for the exam. Don't forget your ID!
When sitting your exam:
Have an idea of how long you have to answer each question
Read the question carefully
Make sure that you answer all the questions – if you miss a question it is an automatic fail. Don't panic though, you do get a summary page before you submit your exam that shows you any questions that you might not have completed.
If you are unsure of an answer to a question, you can mark it for review. You will also get a summary of these questions to go back and review at the end of the exam (if you have time).
Step 5 – Celebrate your success
You should receive the results of your exam within two business days of sitting the exam, except if you are sitting a Beta exam and then you have to wait up to 10 weeks to get your results! If you are successful in passing your exam, well done! Celebrate your success, share it with colleagues and friends.
You might also want to do the following:
If you are struggling with any step in this process please contact gistraining@eagle.co.nz for assistance.
View all blog posts