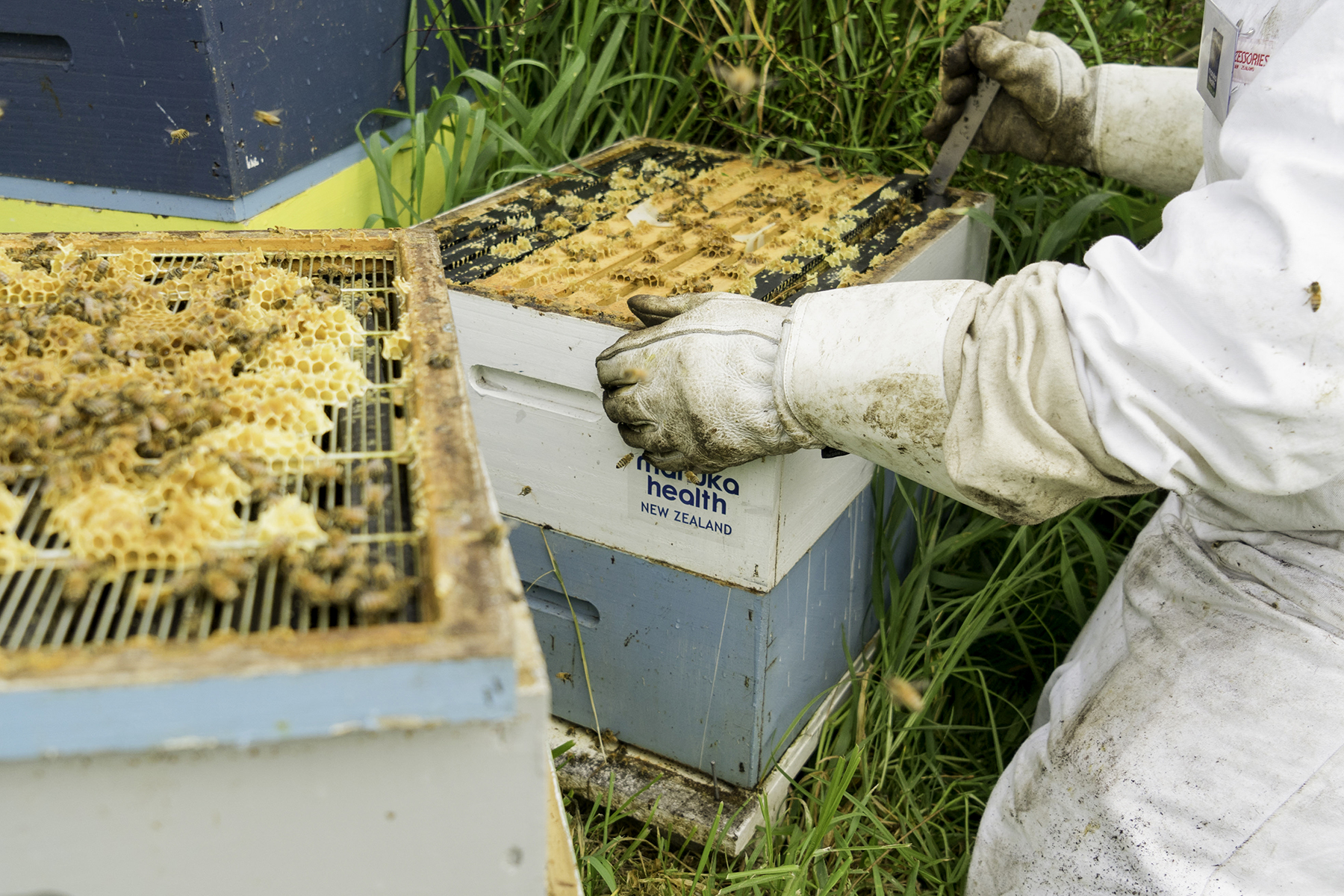 Manuka Health New Zealand, one of our largest manuka honey producers, based in Te Awamutu, has taken its beekeeping operations to new levels of efficiency by using a mobile GIS (Geographic Information Systems) app. This innovative way of working enables Manuka Health access to data that is producing efficiencies in honey production, optimising hive placements and strengthening its traceability agility.  
GIS systems are designed to capture, store, manipulate, analyse, manage and present a wide range of geographical data. Manuka Health's journey with GIS began three years ago. Eagle Technology, which distributes and configures Esri's range of ArcGIS software, worked with Manuka Health to map out the process of honey production from start to finish to define what information needed to be captured by the beekeepers. Eagle Technology subsequently configured a mobile data collection app from Esri called ArcGIS Collector to meet Manuka Health's requirements. Dashboards were created to show imagery of the captured data in real time, including a hive's performance and beekeepers' activities. 
Manuka Health beekeepers and land managers now use web maps on their mobile devices to capture and edit data out in the field and return it to the office. Collector for ArcGIS works even when the beekeepers are disconnected from the internet, enabling them to integrate their data seamlessly. Once they're back in WiFi coverage, the beekeepers press the hot sync button in the app and the most recent information syncs automatically. The beekeeper typically does a quick sync at the office or at home while in WiFi or cellular coverage to download information before heading out into the remote areas where the hives are located.
"We spent the first two years identifying the location of the sites to input into GIS, also the location of tracks and any potential hazards," says Brian McCall, Manuka Health's National Apiculture Manager. "The GIS implementation was carried out in gradual stages. When the location data input was complete, beekeepers were able to use the GIS app on their mobile devices as a navigation tool to get to the hive sites." 
Mānuka honey is a rare and special New Zealand honey made from the nectar of the native Mānuka plant, which bees collect and transform into Mānuka honey. The nectar of the Mānuka flower is what contributes the unique natural ingredients to Mānuka honey that distinguish it from other honeys. Its rarity comes not only in being from New Zealand but also because the nectar can be collected for only a few weeks a year. This is when the Mānuka plant is in flower, and accessed from remote, isolated native forests, often only accessible by helicopter or four-wheel-drive bikes.
Manuka Health manages 19,000 hives (or around 1.5 billion bees), sited from Northland to Wellington. Being able to accurately identify, monitor and audit the locations is critical for the company.
"We're a special industry and face the typical opportunities and challenges of an agribusiness which is tied to geography and the natural weather patterns that might occur leading into the summer months," says Brian. "We maximise our ability to harvest high-quality, pure Mānuka honey by locating our hives across multiple regions of New Zealand.  As a New Zealand regional-based company we spread our operations between Kerikeri, Te Awamutu and Carterton."
In addition to being able to identify the precise location of its many hive sites, the technology has enabled Manuka Health to go from strength to strength with its health and safety practises, by consolidating more information about the properties in which its hives are located, the strength of its hives and the conditions of access roads and tracks to the hives. 
"Beekeepers drive their vehicles directly to the hive sites. We review tracks and hazards regularly as part of our health and safety practice," says Brian. 
Manuka doesn't grow in easily accessible locations. The data gathered about the hive locations enabled Manuka Honey to improve efficiency by optimising the routes for beekeepers' site visits, reducing the time taken to get the hives and helping them to plan their day and nights more effectively. Often the work of the beekeeper will occur before or after sunlight when the bees are in their hives for the night. 
"The accurate hazard identification gives our beekeepers greater confidence and also reduces the likelihood of accidents happening when they're moving bees at night time. The beekeepers report back via GIS if they notice any new risks or hazards on the ground. Their feedback will influence site placement recommendations. Hive locations are continuously updated," says Brian. 
"We've tried to keep the data capture via GIS app very simple, so it was easy for the beekeepers to buy into. We didn't want the data collecting to be a burden. The beekeepers now understand the app very well."
Prior to introducing GIS, Manuka Health's data had been primarily paper-based. There was insufficient information being captured about the landowners, the beekeepers' activities or the sites. Manuka Health also needed to document the changes in hive sites according to the season. 
Every hive has a wintering and a production site. 
Beekeeping undergoes four distinct annual cycles – summer production, autumn relocation of the hives, winter hibernation and hive preparation for spring. The timing of the seasons varies from location to location. The first week in November is peak period for production in the Wairarapa, whereas in Northland the Mānuka starts blooming from late September onwards. In Taranaki, it's from December onwards. The beekeepers are able to monitor Mānuka bloom in particular areas by recording photos of particular hive sites and entering it into Survey123, a complementary ArcGIS app for entering data into forms that is then uploaded to the office.
The Ministry of Primary Industries (MPI) requires honey producers to be able to identify the location of their hives so that they can be tracked if there's a disease outbreak. Using the ArcGIS platform has made complying with MPI requirements much easier and Manuka Health has gained a better understanding of its hives. The company now has access to accurate data about hive strength, as well as the performance of its 50 beekeepers, including confirmation that hive site visits are made when required, and none have been missed. 
"Using ArcGIS allows us to make decisions on the fly and to forecast more effectively," says Brian. "The potential of what we can do with this technology is really exciting. Using GIS is affordable and the storage of data is cloud-based, making it future-proof. Introducing ArcGIS to our processes has been a big project. It's taken time for everyone to get up to speed and to capture the data we need, but it's been worth it. GIS has become integral to our operation, whether it's for long-term planning, analysis, developing policies or day-to-day decisions."
Brian says the company is still learning about the full potential capability of the ArcGIS technology. "The potential is huge for our business," he says. "The traceability potential is significant – that's the next stage. The configuration is being refined ongoing to respond to our evolving needs. The beauty of using GIS is that we can tailor it the way we want it, rather than changing what we do for the system."