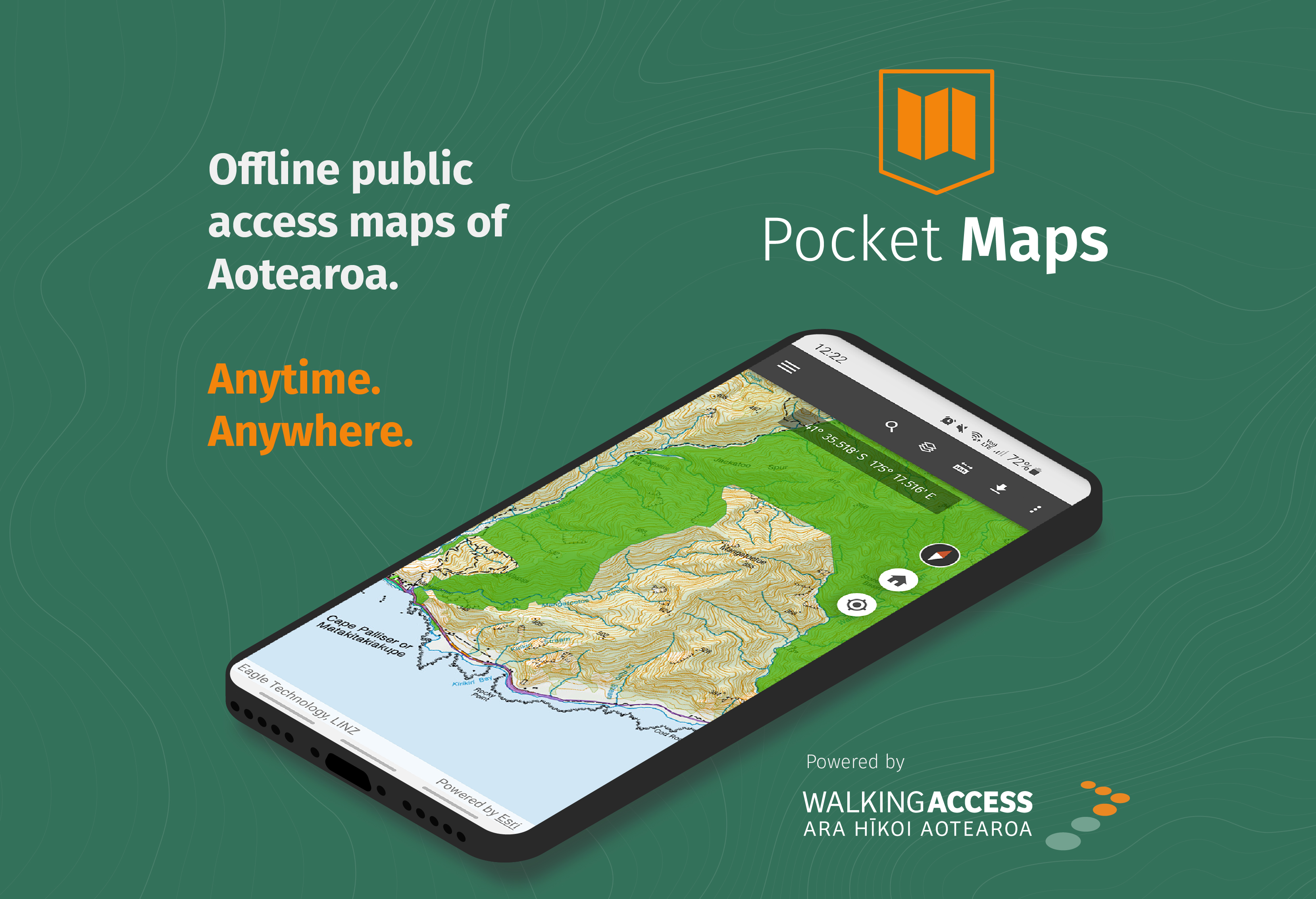 New ArcGIS mobile mapping app helps users to gain offline access to publicly accessible land across Aotearoa New Zealand
If you're a hunter, angler, or tramper out in the field, being able to access portable maps that show whether you're entering public or private land is crucial for safety and peace of mind. Users of the New Zealand Walking Access Commission (NZWAC) maps could access them only via a web browser – there was no offline portable version of the maps.
With the launch of NZWAC's Pocket Maps, a new mobile mapping app, users can now view accessible areas and public conservation land offline out in the field.
BACKGROUND
The New Zealand Walking Access Commission Ara Hīkoi Aotearoa, a small Government agency, administers a national strategy on outdoor access, including tracks and trails. It maps outdoor access, provides information to the public, oversees a code of responsible conduct, helps to resolve disputes and negotiates new access.
THE CHALLENGE
NZWAC uses Esri's ArcGIS to display in map format the publicly accessible areas of New Zealand. These maps were provided in online format only on the NZWAC website. The users could access the maps only via a web browser – they couldn't take the maps offline. They were reliant on printing off maps in hard copy to take into the field. NZWAC was receiving ongoing feedback that map users were struggling to understand public access boundaries when outdoors in areas where there is no cell coverage. It was clear that there was a strong demand for a portable version of NZWAC's existing maps.
The challenge was how to package NZWAC existing map datasets and make them accessible for people to download and take into the field across New Zealand.
Map data is grouped by regions. There was a significant data management exercise behind the scenes and a complex process to analyse the different data layers. The data needed to be simplified and made fit for purpose for mobile data on the average phone to provide a different user experience of the maps.
NZWAC wanted to be hands-on doing the work of adapting the maps into an app. But to achieve this, they needed a GIS expert who could mentor them throughout this process.
THE SOLUTION
NZWAC is a long-time user of Esri's ArcGIS technology supplied by Eagle Technology. To meet NZWAC's requirement to continue to build the skills of their GIS staff to create the new app, Eagle Technology supports the organisation with an expert technical advisor, Paul Haakma, who works remotely with the organisation to help them to produce their mapping products. This has included advising NZWAC GIS Analyst Danica Torres how to use Esri's ArcGIS AppStudio to develop the new Pocket Maps app and to assist with the data management process.
ArcGIS AppStudio allows users to create mobile apps to take data offline and view it on a mobile device to check their location and their ability to access a particular area. The new Pocket Maps functions primarily as an informational rather than a navigational tool. It doesn't replace GPS. It is an app for anyone who wants to understand the location of publicly accessible land so that they can access these areas using GIS and the high-quality maps provided by Pocket Maps to understand where they are in relation to accessible public land.
Pocket Maps enables users to search their exact location by region and, through the map layers, to understand what type of access land they are currently on or looking to hunt, fish or mountain bike through. The maps are split into regions and can be viewed online with a Wi-Fi connection or downloaded to be viewed offline. 
App features include: 
Public access area viewing 
Offline capability 
GPS positioning  
Draw and measure routes  
The public access areas layer includes:
NZ road parcels  
Reserve land  
Walkway easement 
Esplanade strips and reserves
Easements  
Department of Conservation public land  
'AppStudio for ArcGIS opens up the world of native mobile apps to the everyday GIS analyst with a range of useful templates that can be easily configured,' says Paul Haakma, Eagle Technology technical advisor. 'It's exciting to see Pocket Maps make these maps available in a whole new context which will help promote the outdoors and facilitate important conversations around access.'
This new mobile app is not a substitute for a GPS unit and should be used in conjunction with one out in the field. NZWAC's Pocket Maps are available now via the Apple App Store and Android Play Store by searching 'Pocket Maps'. 
The project was commenced at the start of 2021 and Pocket Maps was launched on 15 September in the same year.
'Being able to offer our client tuition in how to create the app means that NZWAC can then modify and add enhancements to the Pocket Maps as required in the future,' says Eagle Technology Account Manager Trish Merz. 'They are empowered by this process and know that they can return to our advisor at any point whenever they need further assistance.'
BENEFITS OF NZ WALKING ACCESS COMMISSION POCKET MAPS
For anyone wanting to explore off the beaten track the new mobile app gives users out in the field the security of knowing whether they are on public or private land.
Using off-line maps together with the user's location can help to facilitate access discussions between users, landowners and NZWAC.
Users can discover public access areas near where they live.
City dwellers can make better use of their parks and reserves.
Pocket Maps will help to increase New Zealanders' understanding of the backcountry and enhance their ability to access it. 
Users can draw and measure on the map to plan their journey and calculate the distance before they decide if their planned journey is feasible.
Pocket Maps will be useful to hunters keen to get to locations they haven't otherwise been able to access because it could be private land. It gives them a way to do so that's safe and legal.
Map areas are colour coded to differentiate between different types of public access land such as Crown forest, easements, reserves, DOC public conservation land, etc.
Users can click on a land parcel within Pocket Maps which provides the ID number of that parcel. This makes it possible to give a precise reference to NZWAC when passing on information about the relevant parcel.
'Our maps provide a high quality of information that is not available elsewhere,' says NZ Walking Access Strategic Communications Manager Stephen Day. 'We wanted this information to become better known. We're pleased that people can now take our maps off-line. Our new mobile app will provide one more tool in people's kit to keep them safe when exploring our countryside, providing assurance about where they are and should be in relation to public and private land. Pocket Maps is a game-changer for us.'
ArcGIS TOOLS
ArcGIS AppStudio